News
25 August 2008
Veeco launches web-coating platform for flexible thin-film solar cells
Veeco Instruments Inc of Plainview, NY, USA has launched its FastFlex line of web-coating systems, which are suited to manufacturing copper indium gallium diselenide (CIGS) solar cells. The firm says that the FastFlex web deposition platform offers high throughput and excellent performance for flexible thin-film solar cell production, contributing to a lower cost of ownership due to the high quantity of deposition zones in a compact footprint.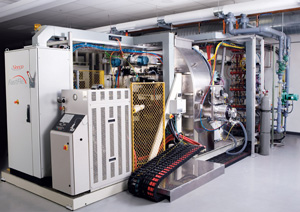 The FastFlex platform consists of three systems: one for the transparent conductive oxide (TCO) using reactive sputtering, one for metal deposition with sputtering (the molybdenum layer), and one for the CIGS layer, integrating Veeco's proven PV-Series thermal deposition sources. The firm says that, to help deliver high throughput, the FastFlex system features a flexible architecture that can be configured to specific needs, with a choice of rotary or planar magnetron cathode assemblies, loading and maintenance requirements.
"Veeco now provides comprehensive, fully integrated manufacturing solutions for the moly, CIGS and TCO layers—enabling customers to achieve full-scale commercialization of flexible solar cells," says Dr Piero Sferlazzo, senior VP of Veeco Solar Equipment. "Our CIGS systems can be tailored to our customers' requirements and help drive down their cost per watt," he adds.
"Veeco is the industry's only thin-film deposition equipment supplier that provides production-proven thermal sources integrated into a CIGS web coating system," according to Sferlazzo. "This differentiation allows our FastFlex platform to provide CIGS customers with an excellent, high-throughput deposition solution as they move from R&D to production." FastFlex systems offer superior material utilization, excellent thickness uniformity, and the ability to process web widths of up to 350mm with an architecture that supports widths of 1m or more for metal as well as polyimide substrates, adds the firm.
See related items:
Veeco exceeds Q2 bookings, revenues and earnings guidance
Veeco acquires Mill Lane Engineering
Veeco launches thermal deposition sources for CIGS solar cells
Search: Veeco MOCVD MBE Solar CIGS
View: Company brochure
Visit: www.veeco.com