News
12 December 2008
Concentrix inaugurates 25MW CPV module production line
At an official inaugural ceremony for invited guests today, Concentrix Solar GmbH of Freiburg, Germany opened its new concentrator photovoltaic (CPV) module production line, which has been in operation since September.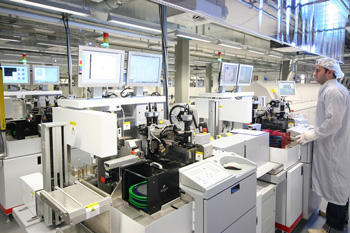 Concentrix was founded in February 2005 as a spin-off of Freiburg-based Fraunhofer Institute for Solar Energy Systems ISE and up to September had been operating a 1MW pilot plant. To enable Concentrix to establish permanent facilities in Freiburg, the City of Freiburg supported the firm in its search for a location and a suitable building. Concentrix says that it chose Freiburg for its production facility site because it can draw on a network of local partners. The firm has an especially close working relationship with Fraunhofer ISE for carrying out further developments of its FLATCON technology, which uses a Fresnel lens to concentrated sunlight 500 times onto a small GaAs-based solar cell.
Up to now, this has enabled a record module efficiency of 23% (proven in May under normal operating conditions for a 5.6kW CPV system in Seville, Spain feeding energy into the utility grid). Concentrix has also supplied 500kW of CPV systems for the 1.7MW first phase of a 3MW pilot-plant project of the Institute of Concentration Photovoltaics Systems (ISFOC) in Puertollano, Castilla-La Mancha, Spain.
However, since October, Concentrix has been producing a new generation of modules that are more cost efficient and have higher efficiencies than their predecessors. External measurements performed at Fraunhofer ISE have confirmed a new average module efficiency of 27.2%, twice that of typical silicon modules (13-14%).
"With the start of production on an industrial scale [with an annual capacity of 25MW], we have made the decisive step from a start-up company to a successful industrial concern," says chief operating officer Karl Friedrich Haarburger, who has been responsible for setting up the new production line.
Concentrix says that, for its module production, it uses affordable machines from the electronics, circuit board and insulating glass industries. "Constructing a fully automated production line with industrial throughput for concentrator modules is a milestone for us and also for the field of concentrator photovoltaics," adds CEO Hansjörg Lerchenmüller.
"However, this is just the beginning and serves only as an entry into industrial production," he adds. "Our goal is to grow with increasing speed in order to reach grid parity as soon as possible with our technology. With this first step, we are on the right path." With a floor area of 4000m² (43,000ft²) available for production and services, the building and infrastructure are designed so that the production capacity can be quickly expanded up to 100MW.
Concentrix currently has 60 staff, but expects this to grow to 100 next year. In the course of further expanding shift operation, the firm plans to employ additional qualified personnel from the fields of electronics and electrical engineering. In addition, Concentrix is recruiting technicians in power plant engineering as well as technicians and engineers in the field of development.
See related item:
CPV Consortium launched to steer industry growth in concentrating photovoltaics

Search: Concentrix CPV module GaAs-based solar cell
Visit: www.concentrix-solar.de