News
29 September 2008
CPV Consortium launched to steer industry growth in concentrating photovoltaics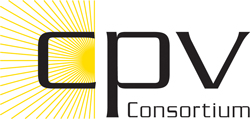 The launch has been announced of the CPV Consortium, a global industry organization focused on supporting the development and long-term success of concentrating photovoltaics (CPV) with the goal of providing low-cost, reliable renewable energy.
Founding members include CPV module maker Concentrix Solar GmbH of Freiburg, Germany (spun off from the Fraunhofer Institute for Solar Energy Systems in February 2005); component and subsystem maker Emcore Corp of Albuquerque, NM, USA; Spain's Isofoton S.A. (spun off from the Polytechnic University of Madrid in 1981, and involved in CPV technology since 2001); ISFOC (Instituto de Sistemas Fotovoltaicos de Concentración S.A., i.e. Institute of Concentration Photovoltaic Systems) of Puertollano, Spain; and SolFocus of Sunnyvale, CA, USA.
"CPV is on the cusp of delivering on its promise of low-cost, reliable solar-generated electricity that will be cost competitive with traditional energy sources," reckons CPV Consortium director Nancy Hartsoch, VP of marketing for SolFocus (which in July completed an initial 200kW phase of ISFOC's 3MW CPV project). "The challenge now is to assure that a proper foundation and infrastructure is in place to support CPV." The consortium's membership is open to the whole CPV supply chain, including solar cell and material suppliers, mirror and lens suppliers, panel suppliers, solar tracker companies, integrators, power generators, universities and government organizations, as well as other institutions with an interest in advancing the CPV industry. Equipment and materials suppliers Veeco and 3M have joined the consortium as charter members.
The CPV consortium is a key instrument to allow for growth, bringing together all key industrial and R&D players, says ISFOC's director general Dr Pedro Banda. "It is with this type of commitment that we all can ensure the future of this technology, becoming a major trend and providing global solutions for the deployment of renewable energies," he adds. "ISFOC is committed, together with the industrial players, to support their technology and product developments and serve as their test bed. This consortium will help bringing CPV up to the pace at which the PV market is growing across the world," Banda predicts.
"With its outstanding efficiencies, CPV technology has an immense potential for lowering costs of solar electricity," says Hansjorg Lerchenmuller, CEO of Concentrix (which earlier in September started up a 25MW CPV module manufacturing line). "To fully exploit the potential of the technology, we need to join forces throughout the whole CPV industry."
"It is crucial for the companies participating in the CPV industry to collaborate and ensure that this technology meets and exceeds the cost and performance requirements of the global energy market," explains David Danzilio, VP and general manager for Emcore's Space and Terrestrial Solar Products. "The CPV Consortium is the mechanism where the industry leadership will partner to ensure concentrating PV systems reach their full market potential," he continues. "CPV technology means a cost-effective and reliable product in the PV sector," adds Isofoton's CPV business manager Vincente Diaz. "The mature technologies present in CPV allow big improvements in terms of system efficiencies. It is the right moment for joining in a powerful team that could boost CPV technology market presence in the short term," Diaz concludes.
The CPV Consortium has launched a membership drive. Membership is available at several levels including charter membership (which includes a seat on the steering committee), general membership, and informational membership. Governmental, university and non-profit memberships are available on an invitation-only basis (e-mail info@cpvconsortium.org for further information).
The consortium is scheduling hold informational meetings at Solar Power International '08 in San Diego, CA (14-16 October), and will also lead a pre-conference workshop ('CPV 101') on 13 October.
See related items:
MOCVD systems maker Veeco joins CPV Consortium
Thin film technology set to top 30% of solar cell market by 2015
Thin film to take 28% of PV market by 2012
Thin-film solar market to reach 9GW in 2012
Search: CPV Consortium CPV Multi-junction solar cells III-V cells
Visit: www.cpvconsortium.org
Visit:
www.solarpowerconference.com