News
19 December 2008
LayTec developing in-line monitoring for thin-film PV processes
LayTec GmbH of Berlin, Germany says that it is developing a product for in-line monitoring of thin-film solar cell production processes. The systems will measure the thickness of all functional layers and provide information on optical properties of the layer materials as well as surface roughness and the formation of interdiffusion regions between layers.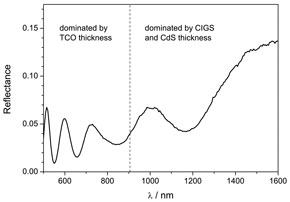 The future of chalcopyrite and II-VI thin-film solar cell production depends heavily on reliable in-line thickness monitoring methods, says the firm. Existing methods are insufficient for two reasons: (i) accurate film thickness measurements by specular reflectance are hindered by diffuse scattering on rough-textured copper indium gallium diselenide (CIGS) or cadmium telluride (CdTe) absorbers; (ii) in high-temperature processes, inter-diffusion of adjacent layers takes place.
For accurate measurements of rough materials, LayTec is developing a new optical head with highly sensitive detectors that suppresses these factors. For precise analysis of the spectra, LayTec says that it has extended the conventional thin-film optical equation by correcting terms for texture, light scattering and inter-diffusion effects.
LayTec says that it has already approved its methods in CdTe- and CIGS-based processes, for photovoltaic cells on both glass and metallized polymer foils. It has conducted many tests for CdTe and CIGS absorbers, CdS buffers on absorber layers, and various TCOs, both on substrates and on top of multi-layer stacks.
The new product is designed to be integrated into almost any deposition process, ranging from in-line processes on glass to roll-to-roll processes on polymer or metal foil.
LayTec's Dr Steffen Uredat will present the first results at the 18th International Photovoltaic Science and Engineering Conference (PVSEC 18) in Kolkata, India on 19-23 January. Product release is planned for third-quarter 2009.
Tobias Schenk to head R&D department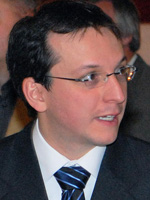 Tobias Schenk has taken over the management of LayTec's R&D department, which was headed until summer by founder Dr Thomas Zettler (who is now focusing on his position as president).
Picture: Tobias Schenk.
Schenk joined LayTec eight years ago and has gained extensive experience in hardware and software development. After graduating in Physics from the Technical University of Berlin, Schenk continued his studies at the Berlin School of Economics (gaining a Masters in Business Administration last summer).
See related items:
LayTec sells 100th EpiCurveTT sensor; recruits new sales engineer
LayTec to develop in-situ sensor for ISE's triple-junction PV cells

Search: LayTec In-situ monitoring CdTe CIGS CdS Solar cells
Visit: www.laytec.de