News
1 December 2008
OIPT wins order from Asian HB-LED maker for first three of up to 15 systems
Oxford Instruments Plasma Technology (OIPT) says that it has recently won an order for three Plasmalab System133 ICP380 plasma etch tools from a leading manufacturer of high-brightness LEDs (HB-LEDs), based in Asia. The order is the first of a potential total of up to 15 systems that may be required by the customer over the next 12 months.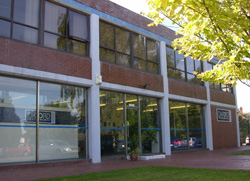 This follows OIPT receiving orders totaling more than 20 systems in October, the fourth best month for orders in its history, consolidating a 12 month period that has already seen the firm's first and second highest order months.
Picture: OIPT's facility at Yatton, near Bristol, UK.
"The combination of a highly motivated, experienced and skilled sales team, selling excellent systems and process capabilities, means that OIPT has been able to remain extremely competitive and increase its order levels, even during such challenging times," says OIPT's sales director Mark Vosloo. "OIPT is able to use its capabilities to enter newer markets such as photovoltaics and LED lighting, where our leading-edge technologies are in increasing demand and our wide range of products, such as plasma etch and deposition, atomic layer deposition and ion beam etch and deposition, contribute to our success."
See related items:
Oxford Instruments maintains full-year expectations
OIPT receives order for six systems
Riber buys OIPT's MBE business
Oxford Instruments acquires TDI
OIPT's record orders keep it on target to double business by 2010
See: Oxford Instruments Company Profile

Search: Oxford Instruments Plasma Technology Plasmalab Plasma etch HB-LEDs
Visit: www.oxford-instruments.com