In February, Oxford Instruments Plasma Technology (OIPT) of Yatton, UK received orders for 20 systems, making it the most successful month for orders in the company's 25-year history.
OIPT says that the orders were spread evenly across Asia, Europe and North America, and include:
5 plasma etch and deposition systems for an HB-LED manufacturer in Malaysia.
a "significant" order for an MBE upgrade in North America.
a FLEXAL atomic layer deposition (ALD) tool for a US government research laboratory.
an Ion Beam Cluster system valued at over £1m.
The company adds that it has a challenging strategy to double the size of its business within the next two years, with the aim of becoming a FTSE350 company by 2010.
Mark Vosloo, sales and customer support director, said: "We are extremely pleased to have achieved an exceptional level of orders in February. This is in line with our target to double the company's turnover by 2010. It is also an endorsement of Oxford Instruments' position at the forefront of providing high quality, innovative process tools which are clearly answering the customers' needs. They are responding by placing record numbers of orders with Oxford Instruments Plasma Technology."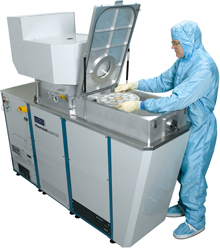 Picture: OIPT's PlasmalabSystem133 300mm and large batch etch and deposition tool, with flexible configurations allowing ICP, RIE, PECVD and ICP-CVD (HD-PECVD) processes on materials and device applications, including: GaN, AlGaN and related material for HB-LEDs, and sapphire and SiC substrate etch.

See related items:
OIPT wins £2.5m order for new University of Southampton facility
Oxford Instruments launches Plasma Accelerator for die etch failure analysis de-processing
Oxford Instruments launches OpAL ALD system
See: OIPT Company Profile
Visit: www.oxford-instruments.com