Oxford Instruments Plasma Technology (OIPT) Ltd of Yatton, UK has won an order for nine process tools, worth a total of more than £2.5m ($5m), to equip a new cleanroom facility at the University of Southampton, UK. The new £55m, 10,000m² Mountbatten research complex will serve the research of the School of Electronics and Computer Science (ECS) and the Optoelectronics Research Centre (ORC), and contains a large purpose-built interdisciplinary cleanroom and associated laboratories.
Last month the University of Southampton celebrated completion of the structural framework of the new four-storey concrete-framed building, just over two years after fire destroyed the original Mountbatten Building. Completion of the building is anticipated for summer 2008, when the tools will be installed (in time for the start of the new academic year).
The systems will provide R&D capabilities for novel nanoelectronic, MEMS and photonic devices. The order includes both plasma etch and deposition tools, with two PlasmalabSystem100 ICP (inductively coupled plasma) etch tools, two Plasmalab80Plus open-loading RIE (reactive ion etching) tools and two PlasmalabSystem100 PECVD (plasma-enhanced chemical vapor deposition) tools, plus a number of Oxford Instruments' newest products: a FlexAL plasma/thermal atomic layer deposition (ALD) tool, a Nanofab nanowire and nanotube growth tool, and a large-chamber Ionfab ion beam system.
Oxford Instruments had already supplied the Optoelectronics Research Centre with three systems in 2006 and 2007, in a £1.2m order.
"This is a very significant order for us, not only commercially, but also as an endorsement of Oxford Instruments' position at the forefront of providing high-quality, innovative process tools which are enabling the next generation of electronic and nanotechnology devices," says OIPT's managing director Andy Matthews.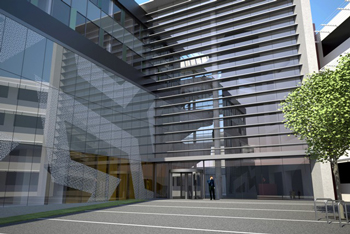 Picture: Artist's impression of the new Mountbatten research complex at the University of Southampton, due for completion summer 2008. (Courtesy of Jestico + Whiles).
See related items:
Oxford Instruments launches Plasma Accelerator for die etch failure analysis de-processing
Oxford Instruments launches OpAL ALD system
Cenamps to provide ALD foundry using Oxford Instruments tool
Search: OIPT
Visit: www.oxford-instruments.com
Visit: www.soton.ac.uk