News
29 December 2008
Osram's Golden DRAGON LEDs chosen for Taiwan street-lighting
Osram Opto Semiconductors GmbH of Regensburg, Germany says that its Golden DRAGON LED series has been chosen by Advanced Thermal Devices Inc (ATD) of Sindian City, Taipei County, Taiwan for two LED illumination projects.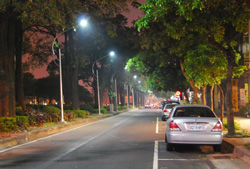 Integrating the chip technology and fitted with a silicone dome for greater light extraction efficiency, the Golden DRAGON and Golden DRAGON Plus LEDs provide light sources for outdoor illumination, and are characterized by a long lifetime.
In fall 2008, 23 solar-powered LED street luminaires were installed for Taiwan Power Company in Taipei. Combined with ATD's solar technology, Golden DRAGON Plus LEDs (which have a lifetime of more than 50,000 hours) give the new street lamps what are claimed to be outstanding energy efficiency results. Furthermore, the luminaires are fully adjustable so that, for example, in the middle of the night, the light output can be dimmed by 50%, reducing energy consumption.
Also, 111 sets of 100W LED street luminaires have been installed in the motorcycle lanes of Zhong-Gang Road in Taichung City. Incorporating Golden DRAGON LEDs, the luminaries demonstrate the wide and even light distribution of energy-efficient LED lighting in roadways and public areas, the firms say.
"Not only illumination enterprises but also the general public now recognize that LEDs are a viable alternative to conventional street lighting," says Dr Alfred Felder, president & CEO of Osram Opto Semiconductors Asia Ltd.
See related item:
Osram forms LED lighting JV with Traxon
Visit: www.osram-os.com
Visit: www.atdi-web.com