Emcore Corp of Albuquerque, NM, which makes components and subsystems for the broadband, fiber-optic and solar power markets, has launched the 1933 DFB family of uncooled coaxial distributed feedback lasers, offering a low-cost solution for 1310nm linear fiber-optic links.
Due to its design, the 1933 series requires no additional cooling, since it can maintain performance even with case temperatures ranging from –40ºC to +80ºC, says Emcore. The 1933 also features high slope efficiency and linearity, even with optical output powers up to 12dBm, the firm claims.
The lasers are packaged in a compact hermetic assembly together with a monitor photodiode and isolator, for flexible integration into various transmitter configurations. Combining the lower cost of a coaxial package with Emcore's linear optical devices creates an advantage in cost and performance over cooled laser solutions by minimizing the amount of stability control circuitry required to maintain performance over wide temperature ranges, the firm says.
"The 1933 family of DFB lasers expands Emcore's discrete laser product offering. By leveraging our vertical integration and technical heritage in linear fiber optics, we can now offer a low-cost solution to meet today's market demands," says Gyo Shinozaki, director of marketing for Emcore Broadband.
The 1933F and 1933R models feature forward and return path laser solutions for hybrid fiber-coaxial (HFC) plants, and the 1933W provides a competitive solution for wireless networks. These market segments are expected to grow as operators continue to add more interactive services, reckons the firm. Emcore sees applications throughout North America, Asia Pacific and Europe in both segments.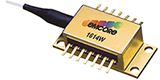 All variants of the 1933 family are currently sampling, and high-volume production is being readied at Emcore's Langford manufacturing facility in China, which is expected to come on line in May.
See related items:
Emcore completes $85m acquisition of Intel's optical telecom business
Emcore's CPV order boom to drive spin-off
Search: Emcore
Visit: www.emcore.com