Tokyo-based Oki Electric Industry Co Ltd has made available samples of the GaAs PHEMT-based KGL4186KD 10Gb/s differential output type driver IC for Mach-Zehnder (MZ) modulators for optical communications, assembled in a small 4mm x 4mm 24-pin QFN ceramic package (which is advantageous for high-frequency characteristics).
The size of 10Gb/s transceivers for long distance optical communication is shrinking, as seen in 300-pin small-form-factor (SFF) MSA (multi-source agreement). To solve the heating problem that is critical in such a small-size module, demand for lower power consumption is increasing for all the electrical and optical components, such as the driver IC as well as the modulators, says Masayuki Tsuboi, president of Oki Electric's Optical Components Company.
The IC has differential outputs operating under a positive supply voltage, with amplitude varying from 3Vpp to over 6.4V (3.2Vpp for each port). Also, by optimizing the design of the output circuit (key for power consumption), power consumption is 0.9W (at a differential output amplitude swing of 6.4Vpp), which is the lowest in its class, the firm claims. Also, the 4mm x 4mm ceramic package provides a small footprint as well as a high-quality waveform at high frequency.
The KGL4186KD enables use of either a dual drive type MZ modulator or single-ended (low voltage) drive type MZ modulator (based on lithium niobate or indium phosphide) in 10Gb/s SFF transceivers with high performance and low power consumption.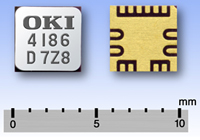 The new MZ modulator driver IC will be showcased at next week's Optical Fiber Communication conference & exposition and National Fiber Optic Engineers Conference (OFC/NFOEC 2008) in San Diego, CA, USA.
See related item:
Oki Optical Components and Kotura partner on silicon photonics
Search: GaAs PHEMT Mach-Zehnder
Visit: www.oki.com