Korean LED maker Seoul Semiconductor has announced the commercial release of its ultra-bright Z-Power P7 Series LED, which has entered volume production. Seoul claims that the new LED, which incorporates four chips in a single package, delivers record brightness of 900 lumens at 10 watts.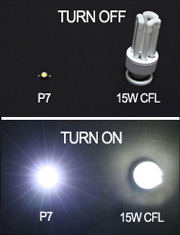 In comparison with a 60W incandescent lamp producing 660 lm with an efficacy of 11lm/W, the 10W P7 single LED package produces a luminous flux of 900lm with eight-fold higher efficacy of 90lm/W. This is also nearly one-and-a-half times higher than for compact fluorescent lamps (CFLs), which typically consume 15W and emit 924lm (an efficacy of 61lm/W).
Picture: Comparison between P7 and 15W CFL.

Also, compared with general light sources such as fluorescent and incandescent lamps, which emit in all directions so that only 60-70% of the light produced actually illuminates an object, the P7 can focus light in a specific direction, based on the users' need. So, there is little loss of light, resulting in an actual luminous efficacy nearly two-and-a-half times greater, reckons Seoul.
Seoul says that the P7 can be applied in fields such as general residential lighting, streetlights, a variety of task lights, high-end flashlights for military, police or rugged use, and landscape lighting requiring extremely bright light.
Seoul launched the first 240lm single-die Z-Power LED P4 Series in December 2006, followed by other products including a 420lm super-bright single-package LED and the world's thinnest LED chip, at 0.17mm and 80lm/W, which runs directly from AC outlets. "We will develop new ultra-high-power products emitting over 1000lm during the third quarter of this year," says Hyuk Won Kwon, general director of the power LED business department.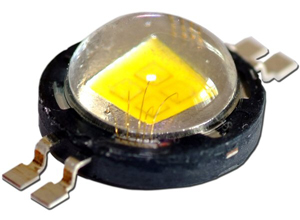 Picture: Seoul's ultra-bright Z-Power P7 Series LED enters production.
See related items:
Seoul Semiconductor boosts Acriche from 60 to 80lm/W
LED makers report progress at ICNS
Seoul launches 50% brighter Acriche AC emitter
Search: Seoul Semiconductor LEDs
Visit: www.acriche.com