News
14 September 2007
Seoul launches 50% brighter Acriche AC emitter
Seoul Semiconductor Co Ltd, which is the largest LED maker in Korea, has launched an upgraded version of its Acriche LED (the world's first semiconductor lighting source that operates directly from an AC power supply).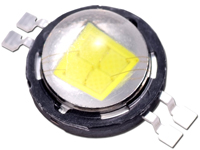 "Acriche has a longer lifespan compared to conventional LEDs, and does not require an AC-DC converter, which can add another $5 per 5W to the cost," says Do Hyung Kim, head of the Acriche unit.
The new version has a luminous flux of 200 lumens at 3.3 Watts, i.e. an efficacy of almost 60lm/W (50% brighter than the previous version released last November). Also, Seoul has cut the price by 40%, making it more competitively priced to penetrate the conventional lighting market.
The new version is sold as a single emitter without a heat-sink PCB. This enables greater flexibility in designing the PCB type and emitter arrays, the firm says, broadening the range of applications. With upgraded packaging, Acriche is the only semiconductor lighting source capable of withstanding 4 Watt of power, the firm claims. Seoul expects this to spur adoption for general lighting applications such as down-lighting and architectural lighting (such as MR16 lamps).
Seoul aims to increase luminous efficacy from 60lm/W to 80lm/W for a 250lm output package by Q4/2007, and to 120lm/w for a 400lm output package by the end of 2008.
See related item:
Seoul Semiconductor unveils 42lm/W warm-white Acriche
Visit: http://www.acriche.com