Veeco Instruments Inc of Woodbury, NY, USA says that a Japanese manufacturer of HB-LEDs has process accepted the company's TurboDisc K465 GaN MOCVD system. Delivered last December and installed at the end of January, the system will be used to support a capacity expansion of blue HB-LEDs. Veeco did not name the buyer.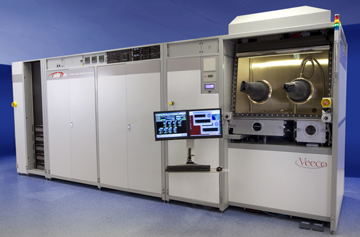 Picture: Veeco's TurboDisc K465 GaN MOCVD system will support Japanese customer's blue HB-LED capacity expansion.
Sam DiRenzo, vice president and general manager of Veeco's MOCVD Operations, said: "Demand for GaN-based blue LEDs is expected to grow at the annual rate of nearly 20% over the next five years, mainly due to market drivers such as signs and displays, automotive, general illumination and LCD backlighting. We are pleased that this customer has chosen our TurboDisc K465, the industry's highest throughput MOCVD tool, for their capacity expansion."
Featuring Veeco's most advanced TurboDisc reactor technology, the new TurboDisc K465 GaN MOCVD system delivers the industry's highest throughput available today for high volume production of GaN-based blue and green LEDs, says the company. The TurboDisc "K-Series" MOCVD platform includes the K300 and K465 models, which are modular and can be upgraded for higher throughput and wafer diameters.
See related items:
Veeco boosted by HB-LED and solar market
Veeco launches MOCVD production platform for HB-LED manufacturers and receives $10m in orders
Search: Veeco MOCVD Blue HB-LEDs
Visit: www.veeco.com