Bookham Inc of Zurich, Switzerland has launched its portfolio of next-generation 808nm multi-mode high-power laser diode bars, with fully qualified products delivering more than 60W in continuous wave operation for pumping and fiber-coupled applications.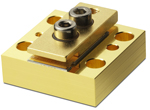 This first launch is the start of a portfolio of high-power 8xx products, joining the firm's high-power, high-brightness and high-reliability 9xx and 10xx products, he adds.
Picture (right): Bookham's 40W 30% fill-factor bar on a passive cooler (CS-mount).
The new range should enable higher efficiency and increased power, resulting in reduced energy consumption and thermal loads, says the firm. The 40W 30% fill-factor and 60W 50% fill-factor 808nm laser diode bars, available on passive cooler and micro-channel cooler, are designed to deliver higher power, improved efficiencies and extended lifetimes to users' laser systems. To achieve full qualification, the gold-tin hard-soldered laser diode bars passed rigorous intermitted lifetests, including accelerated long-term operation at 100W for the 50% fill-factor device.
"This new generation of 808nm product is built on a proven semiconductor material structure that will allow us to grow this portfolio of products, increasing output and offering customers a scalable solution to deliver greater power and reliability in their laser systems," says senior product line manager Christian Naumer. "In the Bookham facility, we have demonstrated up to 130W CW at 50% fill factor."
The new bars offer low divergence in the fast and slow axes, which enables cost-effective side-pumping and fiber coupling, reducing losses and improving coupling efficiencies, says the firm. The 808nm products are available in highly customized configurations, including multi-bar arrays.
Bookham will exhibit the first range of products from the new platform at Photonics West 2008 in San Jose, CA, USA next week (22-24 January).
Picture (left): Bookham's 60W 50% fill-factor bar on a microchannel cooler.
The firm will also present three technical papers at the associated symposium LASE 2008: 'Recent developments for BAR and BASE: setting the trends', 'Emission wavelength stabilization in broad-area lasers coupled to fiber Bragg gratings' and 'Performance and reliability of pulsed 1060nm laser modules'.
See related item:
Bookham claims record power-to-size ratio for VHB laser diode bar
Search: Bookham High-power laser diode bars
Visit: www.bookham.com