News
15 June 2007
Bookham claims record power-to-size ratio for VHB laser diode bar
At next week's LASER 2007 event in Munich, Germany, optical component, module and subsystem maker Bookham Inc of San Jose, CA, USA is unveiling its Very High Brightness (VHB) laser diode bar, which measures just 3.6mm in width and has a power output of 80W (up to four times the brightness of a typical 10mm bar, the firm claims). With a bar 'smile' of less than 1µm (a record for a hard-soldered device) the VHB is designed for efficient beam shaping and can enhance the performance of direct diode and fiber delivery systems, particularly those supporting industrial metal processing applications such as coating, cladding and welding, the firm says.
"With a wall-plug efficiency of more than 60%, our high-power laser diode portfolio enables more reliable, smaller, less expensive and more flexible designs for direct diode systems and fiber lasers," says Berthold Schmidt, Bookham's director of product marketing for High Power Lasers in Zurich, Switzerland.
Bookham is also exhibiting new 10xxnm bars designed to provide an additional wavelength to scale the power of direct diode systems or to replace Nd:YAG lasers in medical applications. Two conductively cooled 9xxnm high-brightness bars (a 60W 20% fill-factor bar and an 80W 30% fill-factor bar) will also be on display.
Also at LASER 2007, Bookham is also launching a fully qualified, ultra-high-power, uncooled multimode laser module for fiber-laser pumping.
The uncooled single-emitter module, which incorporates the latest generation of multimode pump-laser chips from Bookham's facility in Zurich, delivers 8-10W of light output power at 940-960nm from a multimode fiber with a 105µm core diameter and 0.15 or 0.22 numerical aperture. The module is designed to support current and next-generation fiber-laser systems by providing increased brightness while retaining high reliability and cost-effectiveness, Bookham says.
Meanwhile, Bookham Inc's New Focus division is launching a single-wavelength, high-precision laser.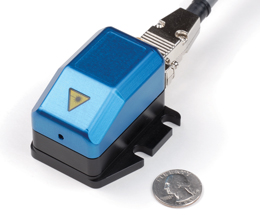 The Integral laser (to be demonstrated live) is designed for precision metrology, including interferometery and Raman imaging and spectroscopy. Its high stability, narrow linewidth and small footprint suit high-precision measurements in demanding applications, including
terahertz generation,
fiber gyroscopes
and LIDAR.
"We are targeting significant markets in Europe, including the spectroscopy, industrial laser, laser systems and scientific research sectors," says New Focus' general manager Ken Ibbs.
New Focus will also give live demonstrations of products including position-sensitive detectors, closed-loop motorized rotary stages, GuideStar OEM active-beam alignment systems, Granite OEM light-management solutions, and vacuum and ultraclean solutions.
See related items:
UK's DTI funding laser projection display technology development by Swansea University
Bookham's 20% revenue drop increases losses, but product ramp should drive recovery in second-half 2007
Bookham introduces 980nm pump laser module
Bookham cut-backs will shrink workforce by 123 staff, mainly at Caswell
Bookham's iTLA supports 40Gb/s DWDM transmission systems
Visit Bookham: http://www.bookham.com
Visit New Focus: http://www.newfocus.com