Optoelectronic chip and module manufacturer JDSU of Milpitas, CA, USA has created what it claims is the world's smallest widely tunable transmitter optical subassembly (TOSA) for the dense wavelength division multiplexing (DWDM) transceiver market, represents a dramatic reduction in size and cost compared to previous discrete solutions for tunable transmitters.
The new TOSA brings full-band tunability (the ability for service providers to change to any wavelength on demand) to pluggable small-form-factor (XFP) transceivers that previously only supported one to two wavelengths.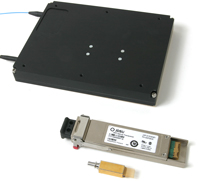 Picture: JDSU's new TOSA (bottom) will enable tunability in XFP transceivers (middle) and allow for smaller versions of 300-pin transponders (top). The XFP shown is about the size of a finger and the 300-pin is about the size of a hand.

It should also enable the use of pluggable small-form-factor products to support 50GHz channel spacing in metro area networks, where traffic continues to grow due to increased use of voice, video and data applications by consumers. According to a recent report by analyst firm IDC, the fastest growth in optical networking over the next three years is expected in the metro space.
The TOSA houses JDSU's Integrated Laser Mach Zehnder (ILMZ) chip (announced last September), a photonic integrated circuit (PIC) that combines a tunable laser and optical modulator on a single chip for smaller, higher-performance tunable solutions. JDSU produces the ILMZ using a semiconductor style of manufacturing that allows the functionally integrated optical solution to be produced in high volumes more quickly and efficiently (resulting in lower costs, it is claimed).
"Our ability to leverage the expertise of JDSU's in-house datacom and telecom teams provided a competitive advantage when it came to packing the most innovation possible into a dramatically smaller assembly," says Alex Schoenfelder, VP and general manager of JDSU's Integrated Photonics.
JDSU says that it will market transceiver products using the new TOSA package later this year.
*At last week's Photonics West exhibition in the San Jose, CA, JDSU debuted the L4 Series next-generation laser diode platform. This includes a 10W 9xxnm fiber–coupled diode laser (announced last December), which provides what is claimed to be the most powerful solution available for medical, industrial and direct diode applications at affordable prices.
Also, at the Photonics West conference, JDSU staff presented papers on topics including:
Power scaling of fiber-based amplifiers seeded by microchip lasers;
Solid-state 488nm laser based on external-cavity frequency doubling of a multi-longitudinal mode semiconductor laser;
High-power, high-efficiency fiber-coupled multimode laser-diode pump module (800-1000nm) with high-reliability.
See related items:
JDSU ships 400,000th 980nm pump laser
JDSU's profit margins boosted by agile products and cost cutting
JDSU invests in Mintera to partner on complete 40Gb/s solution
Search: JDSU Optical communications TOSA
Visit: www.jdsu.com