J. P. Sercel Associates Inc (JPSA) of Manchester, NH, USA, a designer, supplier, and systems integrator of laser-based materials processing workstations, has been awarded a patent, applicable in Korea, for its front-side laser scribing technique for sapphire LED wafers.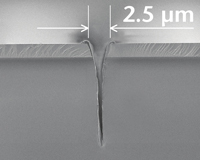 The technique involves the use of a unique laser energy distribution method that allows extremely narrow kerf widths (2.5 microns wide), resulting in faster processing and higher yields. Narrower kerfs also yield more die per wafer.
JPSA developed the LED sapphire wafer dicing capability with its IX-200 Chromadice DPSS UV laser wafer singulation system. "Our Chromadice system, using this patented process, can process fifteen 2-inch wafers per hour," says president Jeffrey P. Sercel. "That represents a dramatic increase in throughput compared to diamond scribing and conventional laser techniques," he claims.
The IX-200 ChromaDiceT DPSS is also suitable for wafer trimming and scribing applications. Its UV diode-pumped solid-state (DPSS) laser system delivers high-speed wafer dicing and cutting with typical yields of greater than 99% at less than $2 per wafer. The process is tolerant of wafer warp and bow and suitable for all wafer types, JPSA says. The system is also available in an excimer laser version for via drilling, micromachining, thin-film patterning and other packaging applications, including LED liftoff.
See related items:
JPSA recruits application and process engineering specialist
JPSA appoints Larry Roberts as director of engineering
Search: JPSA Sapphire LED wafers
Visit: www.jpsalaser.com