News
4 September 2007
JPSA appoints Larry Roberts as director of engineering
Maker of industrial-grade laser systems for wafer processing and micromachining, J P Sercel Associates (JPSA) of Manchester, NH, USA has appointed Larry Roberts as director of engineering.
Prior to joining JPSA, Roberts spent 14 years at Laurier Inc, a manufacturer of semiconductor die sorters and die-from wafer feeders, as Engineering Manager/Principal Engineer.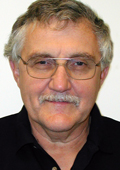 Roberts holds a Masters Degree in Electrical Engineering and a BS in Engineering Physics. He has authored papers on fine pitch placement, attachments to printed circuit boards, and automated handling of 300mm wafer frames. Roberts also holds patents on high-speed semiconductor placement equipment and alignment systems.
Picture: Larry Roberts
See related items:
Tekcore adds wafer processing equipment amid investment speculation
JPSA highlights new IX-4000 series; appoints Brun as QA manager
Laser technology on target for PV applications: Synova and JPSA
JPSA relocates to larger facility
Visit: http://www.jpsalaser.com