News
17 July 2008
First Solar announces two solar projects with Southern California Edison
First Solar Inc of Tempe, AZ, USA, which manufactures thin-film photovoltaic modules based on cadmium telluride (CdTe), says that Southern California Edison (SCE) has selected it to engineer and supply the PV power plant system for a project to be installed on the roof of a commercial building in Fontana, CA that will be capable of generating 2MW of electricity (enough to supply about 1300 average Southern California households).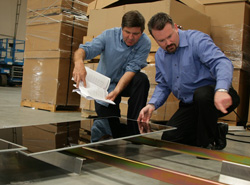 Picture: Rudy Perez (left), head of the SCE solar project, and Edison engineer Jerry Isaac review engineering drawings at the Fontana site. First Solar panels will be attached to rails secured to the 600,000-square-foot roof above.
SCE (an Edison International company) is the largest electric utility in California, serving a population of more than 13 million via 4.8 million customer accounts in a 50,000-square-mile service area within Central, Coastal and Southern California. First Solar had supplied a total of over 300MW of PV modules installed by customers worldwide by the end of 2007, with an additional 400MW scheduled for installation in 2008.
The new First Solar project is the first installation in SCE's five-year plan (announced in March) to install 3.5 million panels covering two square mile in total (250MW of solar generating capacity, enough to serve about 162,000 homes) on about 150 large commercial rooftops throughout Southern California (the largest rooftop solar program ever proposed by a US utility, and the world's largest solar panel installation).
The overall project is subject to regulatory approval. SCE asked the California Public Utilities Commission (CPUC) on 27 March for approval to commit a total of $875m to its solar project, informing regulators that the expected capacity cost per installed watt would be about $3.50 (half the average for existing photovoltaic installations). Subsequently, on May 8, SCE provided additional cost projections to regulators, forecasting an energy cost of about 20 cents per kilowatt-hour after adjusting for time of delivery. Decisions have not yet been made on other building sites or panel suppliers.
"First Solar's successful bid [ to supply the first system] validated our cost forecast to regulators — SCE's solar energy project will significantly reduce the cost of installed photovoltaic generation in California," reckons SCE president John R. Fielder. The first system in the project will help to provide solar PV generation to SCE's customers at a lower cost than traditional PV installations, he adds.
SCE began installation of the initial 2MW project on 14 July. Over the following 45 days, it will attach 33,000 solar panels to a 600,000-square-foot commercial roof in Fontana, CA. SCE expects to connect the panels to its grid in early September (helping to meet peak summer power demand). The firm says that power will be fed directly into the nearest neighborhood distribution circuit, strengthening grid reliability in the nation's fastest-growing urban area (the Inland Empire region of Riverside and San Bernardino counties).
"The project will demonstrate the solar PV system business model needed to dramatically reduce distributive solar electricity costs," says First Solar's CEO Mike Ahearn . "Edison's project confirms the important role of PV solar power plants in delivering clean, affordable electricity."
Also, on 10 July, the CPUC approved project terms for a 20 year power purchase agreement between First Solar and SCE for the sale of electricity generated by a PV power plant, to be built by First Solar in Blythe, CA from next year (subject to the satisfaction of remaining contingencies, including the extension of the federal solar investment tax credit).
The plant will be a minimum of 7.5MW (with an option to increase the size to 21MW). When completed, it will be the largest ground-based PV power plant in California. First Solar will serve as the engineering, procurement and construction (EPC) contractor, and maintain the plant over its lifetime.
"These innovative solar projects are helping to meet our long-term energy and climate change goals," says California Governor Arnold Schwarzenegger . "These projects are evidence that California's ingenuity is spurring a clean tech boom that will bring companies and investment dollars to California while reducing the state's carbon footprint," he adds. Schwarzenegger has set a goal of increasing California's renewable energy sources to 20% by 2010, and he supports reaching 33% by 2020.
"These projects represent significant steps towards the deployment of low-cost, solar electric generation resources for California," says Ahearn. "First Solar looks forward to developing these and other projects, which will move California closer to its renewable energy and greenhouse-gas reduction goals."
See related items:
Thin film to take 28% of PV market by 2012
Thin-film solar market to reach 9GW in 2012
First Solar adds fourth CdTe PV plant in Malaysia following new long-term module supply agreements
First Solar adds third CdTe PV plant to Malaysia expansion
Search: First Solar Thin-film photovoltaic CdTe
Visit: www.firstsolar.com
Visit:
www.edison.com