News
1 July 2008
Sumitomo Electric launches SFP 6G Series
Tokyo-based Sumitomo Electric Industries Ltd (SEI) has launched the SFP 6G Series of fiber-optic transceivers for use in a wide range of network equipment applications.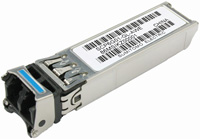 The SFP 6G Series is part of SEI's SFP transceiver family, which is fully compliant with IEEE802.3ae, SONET/SDH, Fibre Channel and SFP multi-source agreement (MSA) specifications.
The new transceiver is manufactured at Sumitomo Electric Photo-Electronics Components (Suzhou) Ltd (SPEC) in China (which SEI says provides global customers with lead-time optimization) and began shipping in April.
SEI says that it will continue to expand SPEC's capabilities to support volume manufacturing of multiple products.
See related items:
SEI launches bi-directional modules for FTTH
SEI launches 8Gb/s SFP+ transceivers for Fiber Channel
Search: SEI Fiber-optic transceivers
Visit: www.sei.co.jp