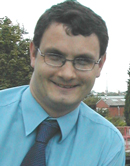 The UK Government's Department of Business, Enterprise and Regulatory Reform (BERR) has seconded Dr Geoff Archenhold (a member of the Photonics Strategy Group think-tank, created by BERR after the government launched the UK Photonics Strategy in July 2006) as an industrial advisor to help drive public procurement of energy-efficient lighting.
Picture: Dr Geoff Archenhold.
Such light sources - with an efficiency of greater than 100 lumens per Watt (about seven times more efficient than the 60W incandescent bulbs found in the home) - have been targeted because of the technological readiness of alternative light sources such as solid-state lighting (SSL); the significant impact on achieving carbon reductions; the scale of the market opportunity; and the scope for public-sector procurement to have a material impact on the market, it is explained.
With over 15 years experience in both traditional lighting and solid-state lighting including LEDs, Archenhold will provide guidance on the use and procurement of new lighting technologies to public-sector organizations.
He will develop Forward Commitment Procurement models across central, regional and local government departments (to meet the UK Government's commitment to lowering emissions of greenhouse gases, including CO2) and stimulate and assist the UK Solid-State Lighting supply chain to be ready for future public-procurement opportunities. He will also stimulate cross-government partnerships and provide an action plan to introduce sustainable lighting within the public sector.
"The public sector accounts for approximately 40% of the UK's construction industry and is a large procurer of lighting, so it is important we ensure that new ultra-efficient lighting technologies are adopted as soon as possible," says Archenhold. "It is clear that new lighting technologies such as LEDs offer a realm of new opportunities for the public sector to enable them to meet the Government's carbon emission targets whilst offering excellent value for money through lower running and maintenance costs and improved environmental benefits," he adds.
UK universities demonstrating SSL research at euroLED 2008
Archenhold is conference chair for the fifth annual euroLED event at the Ricoh Arena in Coventry, UK this week (4-5 June). At the euroLED 2008 exhibition, the Engineering and Physical Sciences Research Council (EPSRC), the UK Government's funding agency for research, training and knowledge transfer in engineering and the physical sciences, is hosting a UK academic pavilion to demonstrate UK solid-state lighting R&D.
Six academic institutions are being showcased, including the Universities of Bath, Cambridge, Nottingham, Sheffield and Strathclyde. Collective expertise includes epitaxial growth and device fabrication of gallium nitride-based devices, through to research into the issues limiting the widespread adoption of LEDs in homes and offices, such as efficiency, lighting quality, lifetime and cost.
EPSRC is actively supporting UK research In III-V semiconductors, says Archenhold, including understanding how to reduce defect densities in LEDs, and developing improved high-brightness LEDs and high-power short-wavelength UV LEDs. "Such academic work is vital to increasing the efficiency of LEDs for general lighting," he adds.
See related items:
DOE releases Round 5 funding opportunity for SSL research
GaN-based LEDs the main consumer of nitride materials
Analysts forecast seven-year wait before LEDs penetrate home lighting market
Search: Photonics SSL GaN LEDs
Visit: www.photonicsleadership.org.uk
Visit:
www.euroled.org/2008