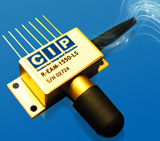 CIP Technologies of Martlesham Heath, Ipswich, UK has launched what is believed to be the first commercial reflective electro-absorption modulator (R-EAM), enabling developers of access network and other communications applications to implement innovative system architectures, the firm claims.
Potential applications of the new indium phosphide-based R-EAM-1550-LS include 10Gb/s wavelength division multiplexing (WDM) passive optical networks (PONs), and a simple means of linking radio antennas to a high-speed optical cable (creating 'remote antenna' radio-over-fibre networks) to extend the coverage of high-data-rate wireless technologies.
"The demand for higher and higher bandwidths is insatiable," says chief technology officer David Smith. "The challenge is to find low-cost architectures and components that can deliver progress cost-effectively," he adds. "Reflective EAMs are potentially a breakthrough in this search, offering system builders a power-efficient and low-cost means of extending ultra-high-speed optical fiber networks into the consumer domain."
The R-EAM-1550-LS operates at C-band wavelengths (1550nm) and has a very low optical insertion loss of 3.5dB (typical). It will also operate with low drive voltages, and has low polarization-dependent loss (0.3dB typical).
Design features on the die have been incorporated to optimize manufacturability and yield, and simplify coupling to optical fibre. This economy is aided by the device's need for only a single optical fiber connection. It also dissipates very little power and will operate uncooled in some configurations, reducing the total electrical power for many target applications, claims CIP.
The R-EAM-1550-LS provides high-speed transmission capability by reflecting and modulating a 'seed' light that is transmitted throughout the network, and will comfortably operate at data rates up to 10Gb/s, as will be needed in next-generation optical access networks. Using an arrayed waveguide grating (AWG), light from the multi-wavelength seed source can be split into different wavelengths for use in different segments of the network, e.g. in fibre-to-the-home/premises (FTTH/FTTP) access network architectures.
Such an architecture allows an R-EAM to deliver dedicated multi-gigabit optical data transmission facilities for clients without the expense of a tunable wavelength source. In addition to minimizing the costs of the bidirectional (BIDI) fiber-optic assembly required for client premises, this approach allows one standard BIDI to be manufactured and installed for all users. CIP says that it is already heavily involved in development work and trials in this general area, because of its novel reflective SOA (semiconductor optical amplifier), which was launched in 2005. The R-EAM-1550-LS expands the architectural possibilities of WDM-PON (passive optical networks) to users that require operation at 10Gbit/s.
For applications in wireless networks, R-EAMs make it possible to extend the coverage of a wireless access point with a network of remote antennas. For example, a single fiber-optic cable could easily support 32 antennas operating on different wavelengths, providing a low-cost means of extending the coverage of short-range, high-data-rate wireless technologies around a building or plant. Because of the passive way in which R-EAMs can operate, the cost of remote nodes could be extremely small, as in their simplest form they can be fabricated with just an R-EAM and a simple antenna and operate without any need for local power. As the R-EAM will also operate as a photodiode, these passive nodes can provide both uplink and downlink capabilities.
CIP is supplying the new device in a butterfly package, including thermoelectric cooler, for engineering trials and initial applications. Other packages are available to order (to suit a target application) and can be manufactured by either CIP or the firm's volume-manufacturing partners.
See related item:
CIP launches record-speed SOA for 100Gb/s all-optical networks
Search: Electro-absorption modulator InP WDM PONs
Visit: www.ciphotonics.com