TranSiC AB of Kista, Sweden, which manufactures silicon carbide power transistors for applications such as future hybrid electric vehicles (HEVs), inverters for solar panels, and high-temperature-capable power electronics, has recruited Bo Andersson as its CEO.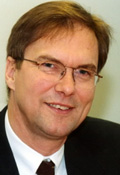 "Andersson brings a long experience from top management on an industrial base and expertise in how to structure a young, growing company," says co-founder Bo Hammarlund, VP sales & marketing. Andersson is a former CEO of Ericsson Microelectronics, with long experience from his early days starting in the semiconductor business as a process developer. "This is a perfect match to our need to grow TranSiC to become a world wide leader in silicon carbide based power transistors," says Hammarlund.
Picture: Bo Andersson
Andersson comments that its good to have such a strong team of investors willing to fund the growth of the SiC industry in Sweden. TranSiC was spun off from the Royal Institute of Technology (KTH) in December 2005 by Martin Domeij, Bo Hammarlund and professor Mikael Östling with funding from both VINNOVA (the Swedish Governmental Agency for Innovation Systems) and Energimyndighet (the Swedish Energy Agency). This was followed by seed funding from NUTEK and Innovationsbron in April 2006 and then first-round venture capital financing in November 2006 from Volvo Technology Transfer Corp (VTT, vehicle maker AB Volvo's corporate venture capital company) and private equity firm Midroc New Technology AB (both of Sweden). Earlier this week, TranSiC raised SEK24m ($4m, or € 2.6m) in second-round venture capital financing from VTT, Midroc and Stockholm-based early-stage investment firm Industrifonden.
See related items:
TranSiC receives € 2.6m in second-round funding
TranSiC launches SiC BJT and SiC Schottky diode in TO-220 package
SiC electronics market to reach $800m by 2015
Visit: www.transic.com