The compound semiconductor substrate material market grew from $600m in 2006 to almost $800m in 2007, and should grow to $1bn by 2009-2010 and then about $1.4bn in 2012, forecasts French market analyst firm Yole Développement in its new report 'Compound Semiconductor Materials '08'.
Silicon continues to dominate the semiconductor industry as the standard substrate. However, optoelectronics and RF and power electronics applications that require material properties not provided by silicon are driving demand for compound semiconductors, due to enabling device performance not achievable with silicon (in terms of operating frequency, power output, thermal conductivity, robustness, junction temperature, and voltage breakdown).
Driven by demand for wireless technology, gallium arsenide (GaAs) has been the most used compound semiconductor material by volume. Also, sapphire and silicon carbide (SiC) have been benefiting from the booming LED market, while bulk gallium nitride (GaN) has become the 'winning choice' for blue laser diode makers, says the report's author Philippe Roussel. Finally, Yole expects a strong rebound in demand for InP for fiber-optic communications applications.
Nevertheless, in 2007, GaN, GaAs, InP, SiC and sapphire substrates represented just 0.62% of the 8630m square inches of total semiconductor material (including silicon) processed annually in fabs, due partly to the merchant price of compound semiconductor materials being much higher than silicon.
However, all of the above materials are now available in wafers of a 4-inch in diameter (except for bulk GaN, which has just been launched in 3-inch form in Japan). The increase in the diameter of wafers is helping to lower the cost of manufacturing devices and make mass-market products affordable, boosting the market for compound semiconductor subtrates, says Yole.
The proportion of compound semiconductor substrates used (compared to silicon) is therefore forecast to continue its growth (from 0.56% in 2006 to 0.62% in 2007) with consistent growth to 0.84% by 2012, concludes Yole.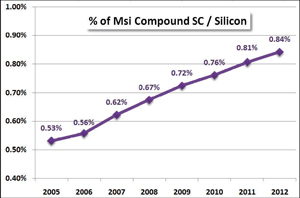 Chart courtesy of Yole Développement.
See related items:
AXT grows 31% as SI GaAs market share passes 20%
Demand grows for SI GaAs bulk substrates
GaN-based LEDs the main consumer of nitride materials
Search: GaN substrates GaAs substrates InP substrates SiC substrates Sapphire substrates
For Yole reports, visit: Bookstore
Visit: www.yole.fr