Oxford Instruments Plasma Technology (OIPT) of Yatton, UK (a division of Oxford Instruments plc) has appointed Dan Ayres as operations director. He has already held a number of roles in operations and marketing in the Oxford Instruments Group, where most recently he was director of operations at Oxford Instruments Analytical.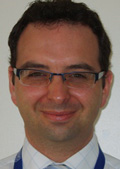 Prior to joining Oxford Instruments, Ayres worked for a major Japanese car maker, responsible for managing production suppliers and co-ordinating the supply chain for new product introductions.
As well as working on key challenges to ensure that OIPT maintains its standards, Ayres will also be instrumental in the firm's relocation within North Somerset in 2009.
OIPT provides process tools and processes for the engineering of nano-scale structures and devices, based on core technologies in plasma-enhanced deposition and etch, ion-beam deposition and etch, atomic layer deposition (ALD) and molecular beam epitaxy (MBE).
Also, in mid-April the firm acquired Technologies and Devices International Inc (TDI) of Maryland, MD, USA, which develops and manufactures nitride materials (including GaN, AlN, AlGaN, InN and InGaN epiwafers) using patented hydride vapour phase epitaxy (HVPE) technology. OIPT consequently aims to produce HVPE systems.
See related items:
OIPT appoints GM for recently acquired TDI business
Oxford Instruments acquires TDI
OIPT's record orders keep it on target to double business by 2010
Search: OIPT
See: Oxford Instruments Company Profile
Visit: www.oxford-instruments.com