News
25 November 2008
Ford introduces new Mustang incorporating Osram Joule standardized automotive LED system
Press day at the 2008 Los Angeles Auto Show on 19 November saw the unveiling of the 2010 Ford Mustang, incorporating LED lighting systems from Osram.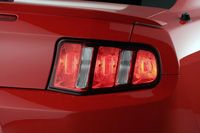 According to Osram, the new Mustang includes a unique sequential rear turn signal powered by the Osram Joule standardized automotive LED system. The vertical taillamp design utilizes three LED bulbs that fire sequentially, from the center out, a feature not seen on the Mustang since the 1960s. Brake and taillighting is also illuminated by the system.
Unlike traditional incandescent signal lights, the Joule system uses LEDs that consume 10 times less energy, generate less waste and offer flexibility in design. Furthermore, compared to incandescent light sources, the Joule system can save the user up to 4 gallons of gasoline per year, says the firm.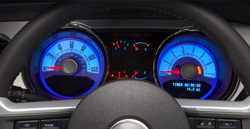 Osram LEDs also light the Mustang's interior center stack, window switches, door lock lights and headlamp switches. The vehicle's ambient interior lighting system uses the Osram TopLED family of LEDs to light cup holders, door panels, foot wells and console. A programmable system allows the interior lighting to be customized, with a choice of seven colors — red, green, blue, orange, purple, white and ice blue.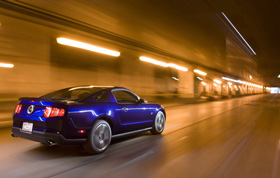 "LEDs continue to define the future of automobile lighting when it comes to environmental sustainability, practical functionality and design flexibility," said David Hulick, global product marketing manager at Osram for its Automotive LED Systems Strategic Business Segment. "The reduction in energy consumption, coupled with its long-lasting durability means less waste is generated in the form of replacement parts and packaging. The design flexibility offered by LEDs makes them even more desirable for defining the signature look of one of America's most celebrated vehicles."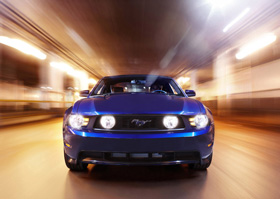 Osram also worked with Valeo Sylvania to supply the complete exterior package, including: fog lamps, LED CHMSL, front and rear side marker lamps and the D3S XENON headlamps.

See related items:
Osram launches new LEDs for headlamps, camera flashes, and video displays
Pininfarina uses Osram LEDs in strip headlamps
LED market growth to accelerate to 12% in 2008
Top 3 automotive LED makers have over 50% of market
Automotive LED market to double in 10 years
Search: Osram LEDs Automotive LEDs
Visit: www.osram-os.com
Visit: www.sylvania.com