High-brightness LEDs from Osram Opto Semiconductors of Regensburg, Germany have been used in the headlights of Pininfarina's Sintesi concept car, on show at last week's 2008 Geneva Motor Show.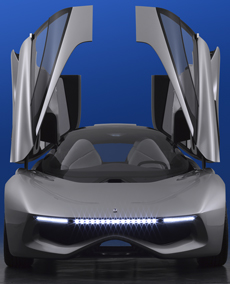 Instead of two separate headlights there is a continuous narrow strip containing 16 Osram Ostar Power LEDs. Pininfarina also chose Osram LEDs for all other lighting, including daytime running lights, turn lights and tail-light clusters as well as the interior lighting (using linearlight flex LED modules).

Picture: Sintesi concept car. Picture credit: Pininfarina.

Osram has a comprehensive product portfolio of LED lighting for the automotive sector that includes the appropriate drivers and controllers, claims Peter Knittl, head of automotive LED marketing.
The Sintesi is an example of how LEDs can offer flexibility in vehicle design. "Our high-power Ostar Headlamp LED technology platform opens up so many options for automotive lighting design in addition to traditional headlights and LED strips", adds
Osram Opto's CEO Rüdiger Müller. The firm says that, by the end of 2008, it will have launched a number of different chip configurations in addition to the current five-chip platform.
See related items:
Top 3 automotive LED makers have over 50% of market
Automotive LED market to double in 10 years
Automotive demand to drive LED market
Osram doubles OSTAR Headlamp LED brightness to 620 lumens
Opel shows concept car with all-LED exterior lighting
Nichia partners with Stanley on white LEDs
Osram's Advanced Power TopLEDs used in Audi R8's daytime running lights
Search: Osram LEDs Automotive LED market Headlights
Visit: www.osram-os.com
Visit:
www.sintesi.pininfarina.com