News
23 September 2008
3S launches 750mW 980nm terrestrial pump module for next-generation EDFAs and fiber-laser applications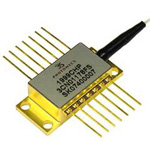 At this week's 34th European Conference and Exhibition on Optical Communication (ECOC 2008) in Brussels, Belgium, telecom laser chip and module maker 3S Photonics of Nozay (Essonne near Paris), France announced that it is sampling what it claims is the most powerful pump module available on the market, an enhanced version of the 1999 CHP series (its most powerful 980nm pump module series for terrestrial applications).
Key features include:
maximum operating drive current of 1050mA for an operating power of 680mW;
fiber Bragg grating (FBG) stabilization;
multiple wavelength availability;
an integrated thermo-electric cooler (TEC), precision NTC thermistor, and back-facet monitor photodiode;
high polarization extinction ratio (PER);
fully qualified in accordance with Telcordia GR-468-CORE specifications.
By delivering kink-free fiber-coupled output power of 750mW (from –5°C to +75°C), the cooled 1999 CHP 980nm pump laser module forms a cornerstone for next-generation erbium-doped fiber amplifiers (EDFAs), says the firm. "This new 980nm terrestrial pump is obviously powered by our in-house chip technology, which has been fully qualified for submarine applications, ensuring an unparalleled level of performance and reliability," explains Yannick Bailly, VP of marketing. The new ultra-high output power pump incorporates 3S' 1999 LCv2 laser chip, which is designed and produced internally and is fully qualified for submarine applications (thus exceeding Telcordia recommendations).
Also, for not just the 750mW model but all 3S' 1999 CHP 980nm cooled terrestrial pump laser modules (350-750mW), the low-profile hermetically sealed 14-pin butterfly package is offered with not only the existing polarization-maintaining fiber (PMF) pigtail but now also a standard single-mode fiber (SMF) pigtail. "This new feature has been developed to support our customers, making their life easier, by allowing them to easily splice our pumps to the WDM couplers with very low insertion losses," says Bailly.
Applications of the new product include low-noise EDFAs, next-generation dense wavelength division multiplexing (DWDM) EDFAs, cable TV (CATV) applications and fiber-laser systems.
See related items:
3S grows more-than-expected 87% in fiscal 2008
3S enters terrestrial pump laser module market
Search: 3S Photonics Pump module
Visit: www.3Sphotonics.com