News
3 September 2008
OIPT awarded BS OHSAS 18001 certification for commitment to heath and safety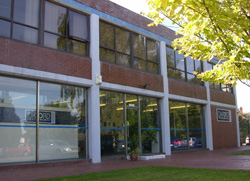 Maker of etch and deposition equipment Oxford Instruments Plasma Technology (OIPT) of Yatton, UK (a division of Oxford Instruments plc) has been awarded BS OHSAS 18001 certification for its commitment to heath and safety.
Picture: OIPT's facility at Yatton, near Bristol, UK.
Awarded by Det Norske Veritas (DNV), the certification officially recognises OIPT as meeting the standards set by BS OHSAS 18001:2007, which defines the requirements for establishing, implementing and operating an Occupational Health and Safety Management System.
Sean Stephenson, OIPT's health, safety and facilities manager said: "Achieving this standard has recognised OIPT's continual dedication to the safety and welfare of its employees and customers, and to providing a safer working environment. It also shows the commitment of our facilities management team and all employees involved in improving our workplace."
See related items:
OIPT launches new customer support package
Oxford Instruments acquires TDI
OIPT's record orders keep it on target to double business by 2010
See: Oxford Instruments Company Profile
Visit: www.oxford-instruments.com
Visit: www.dnv.com