News
15 April 2009
Abound Solar opens full-scale CdTe PV plant
Last month, AVA Solar Inc unveiled its new brand name, Abound Solar, after having manufactured cadmium telluride (CdTe) thin-film photovoltaic (PV) modules on an initial 3MW pilot-production line at its headquarters and R&D lab in Fort Collins, CO, USA since the end of 2007.
Now, in the presence of Colorado Governor Bill Ritter, Robert F. Kennedy Jr and EUROSOLAR president Hermann Scheer, Abound Solar has unveiled its fully automated commercial-scale manufacturing facility in Longmont, CO, after breaking breaking ground in April 2008. Annual capacity is 65MW from the first production line, and 200MW ultimately. "Abound Solar proves that we have the capability here in the United States to cost-effectively meet our energy needs, while protecting our climate," said Kennedy. Ritter described Abound Solar as a "true Colorado success story of how renewable energy technologies can move from the lab to the marketplace."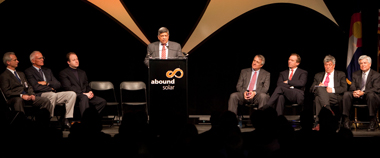 Picture: President & CEO Dr Pascal Noronha speaking at the opening of Abound Solar's plant in Longmont.
Based on 15 years of research led by professor W.S. Sampath, director of Colorado State University's Material Engineering Laboratory (with the support of the National Renewable Energy Laboratory in Golden, CO), AVA was founded in January 2007 to commercialize a proprietary process for manufacturing CdTe thin-film PV modules. A seed round of funding in February 2007 led to construction of the initial 3MW pilot-production line, followed that June by a second round of funding plus $3m over 18 months from the Photovoltaic Technology Incubator Program of the US Department of Energy's Solar America Initiative.
AVA has since developed an automated process in which its proprietary continuous in-line equipment converts sheets of glass into solar panels in less than 2 hours at a cost of less than $1/watt, it is claimed. Initial PV efficiencies were 11-13%. Last August, AVA completed a $104m second institutional equity financing round, led by Doll Capital Management and joined by new investors Technology Partners, GLG Partners and Bohemian Companies LLC as well as previous investors including Invus LP. This raised total funding from private investors and institutions to nearly $150m, enabling the firm to complete the Longmont plant and create more than 300 further jobs. AVA reckons on employing 500 staff in total by the end of 2009.
"We are trying to get the cost of solar power down to be competitive with fossil fuels [i.e. grid parity]," says Mark Chen, director of marketing. "Larger-scale projects are more likely to accomplish this in the near term." Chen added that Abound's manufacturing costs will be competitive with the industry leader - First Solar says it cut its CdTe PV manufacturing cost in fourth quarter 2008 to 98 cents per watt.
"Our new brand identity represents a change in the company's look, as well as our focus," says president & CEO Pascal Noronha. "We are well-positioned to address the growing demand for solar power, and we are focused on scaling to create a source of renewable, abundant and universally affordable energy."
Fueled in part by enhanced federal support for renewable energy (including tax credits and loan guarantees), the global solar industry is expected to continue to grow 30% annually for the foreseeable future, driving increased demand for cost-effective solar modules. Abound Solar reckons that it is well positioned to accelerate its evolution from an R&D firm commercializing a new manufacturing process to a high-volume manufacturer of low-cost PV panels.
Even prior to officially entering commercial production, Abound Solar says that it has long-term supply contracts in place with vendors and customers globally to support multiple gigawatts of production.
Abound is seeking further funds to demonstrate scalability. In February, to expand its Longmont plant's capacity by about 50% and to begin construction of a larger second plant in the USA, the firm applied for a loan guarantee from the US Department of Energy (DOE), which recently financed its first loan ($535m) under a three-year-old program to Solyndra Inc of Fremont, CA, which manufactures copper indium gallium diselenide (CIGS) thin-film PV modules.
See related item:
AVA Solar raises $104m in equity financing

Search: AVA Solar CdTe thin-film PV
Visit: www.abound.com