News
1 April 2009
Solyndra completes commercial rooftop PV system in Livermore
Solyndra Inc of Fremont, CA, USA, a start-up founded in 2005 that manufactures copper indium gallium diselenide (CIGS) photovoltaic (PV) systems consisting of panels and mounting hardware for commercial rooftops, has announced the completion and full operation of a 132kWp system by SPG Solar Inc on the rooftop of Cinema West's Livermore Cinemas in Livermore, CA. Solyndra says that the project is one of many major commercial installations that have been completed or are underway with its PV systems in the US and Europe.
Solyndra has developed a proprietary thin-film cylindrical solar panel built from tubes that capture sunlight across a 360-degree photovoltaic surface capable of converting direct, diffuse and reflected sunlight (from below) into electricity. The firm says that this 'self-tracking' design allows the capture of significantly more sunlight from low-slope commercial rooftops than conventional flat-surfaced solar panels, which require costly tilted mounting devices to improve the capture of direct light from the sun, offer poor collection of diffuse light, and fail to collect reflected light from rooftops or other installation surfaces. Also, gaps between the tubes and their frame let wind pass through, reducing the need for heavy, roof-penetrating fastenings or anchoring; their lighter weight also allows installation on scantier roofs. Simple horizontal mounting hardware also allows fast and economical installation, claims the firm.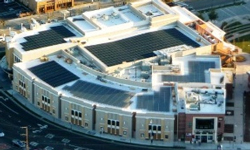 Consequently, the latest installation took less than four days. "No other system could offset as much power – the installation was over before we knew it," says Dave Corkill, owner of Livermore Cinemas.
Picture: CIGS PV rooftop systems.
The Livermore project involved covering a complex roof shape with many areas not aligned in the north/south direction. Whereas conventional PV panels would have needed to be tilted facing southward to avoid significant energy loss, the orientation of Solyndra panels has minimal impact on overall energy yield. "The Solyndra system allowed us to maximize the available roof space, minimize labor and installation costs and increase power production – which allowed us to optimize our client's investment in solar," adds Ted Walsh, SPG Solar's director of Commercial Development.
"The efficiency of installation saved us time and money, and we were able to pass those savings onto Cinema West," says SPG Solar's founder, president & CEO Dan Thompson. "Solyndra's products passed smoothly through permitting and commissioning," adds Dr Kelly Truman, Solyndra's VP of marketing, sales & business development.
See related items:
CIGS PV maker Solyndra opens European HQ
Solyndra wins $320m Carlisle PV contract for commercial roofing
Visit: www.solyndra.com