News
17 August 2009
Concentrix's new CPV module raises AC system efficiency record to 25%
Earlier this month, Concentrix Solar GmbH of Freiburg, Germany said that it had raised its record for concentrator photovoltaic (CPV) alternating-current system efficiency from 23% (first achieved in May 2008) to 25% by using its new CX-75 generation of modules.
In mid July, Concentrix entered into a joint project in which a demonstration CPV system with a power of 5.75kW was installed and put into operation on the grounds of the University of California, San Diego (UCSD). The aim was to test the new-generation CX-75 module under California climate conditions and to create a reference in the USA, especially for the American customers. Concentrix has already been represented on site in San Diego since the beginning of 2009 by its director of business development for the USA, Martin Mesmer (an electrical engineer who has been working on PVs since 1993, including several years in North America and in Asia).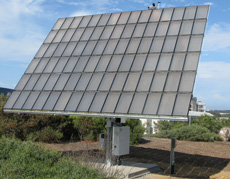 "USCD is an ideal partner for a co-operation, because it already has many years of experience in the field of photovoltaics and was one of the first American universities that began to install PV systems for their own use in a big way," says project leader Inka Heile. "In addition, the site of the demonstration system situated at UCSD's East Campus Energy Park and located close to the international airport is very accessible for our customers."
Picture: Demonstration CPV system at UCSD.
Two weeks after the demonstration system went into operation, and following the installation of new systems using CX-75 modules in a commercial power plant as part of the Institute of Concentration Photovoltaics Systems (ISFOC) project in Puertollano, Spain, AC system efficiencies of 25% were measured under full field operating conditions. An output of over 6kW is generated under irradiation conditions of about 850W/m² and with a tracker aperture area of 28.8m2 (301.4ft²). Output can increase to almost 7kW on a particularly sunny day, says the firm. Since CPV systems can only use direct irradiation, the definition of nominal output is based on a DNI (direct normal irradiation) of 850W/m² ('PV USA test conditions'). This corresponds to global radiation of about 1000W/m², the value which is used as a basis for calculating the output of silicon PV systems.
"The key factor for high system efficiency is very low module variability," says chief technical officer Dr Andreas Gombert. "All the modules must be identical. The results achieved with our fully automated production line were even more consistent than expected," he adds. The CX-75 has an average module efficiency of 27.2%. The high system efficiency achieved in San Diego also shows that CPV systems, which only incur a third of the energy loss of conventional silicon PV power plants, are suited to locations with high ambient temperatures, claims the firm.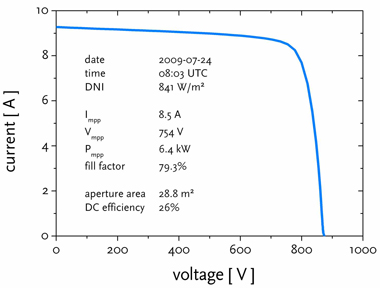 Figure: Current vs voltage, showing the output power of 6.4kW under 841W/m² irradiation.
"We are registering a large demand for our technology from the USA," says CEO Hansjörg Lerchenmüller. "Due to the large energy demand during the summer months, the high temperatures and the high irradiation, our CPV technology is ideally suited for the southwestern states in the USA. Thus, we will further expand our capacities and in the future will intensify our involvement in the US market," he adds.
Concentrix chief sales officer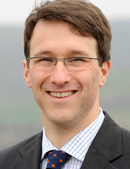 From September, Henning von Barsewisch, an expert with many years of experience in setting up new markets in the renewable energy sector, joins Concentrix as chief sales officer, leading the departments of sales, marketing and business development. Initially, he will focus on further building up the international sales activities and opening up new markets for the CPV technology.
Picture: New chief sales officer Henning von Barsewisch.
Concentrix's five person management team is now complete. CEO Hansjörg Lerchenmüller is responsible for management, COO Karl Friedrich Haarburger for production and logistics, CTO Dr Andreas Gombert for research, development and technology, and CFO Holger Janke for finance and power plant business.
For the past six years, von Barsewisch has built up the British subsidiary of Germany-based wind turbine maker REpower Systems AG. As managing director, the company developed from market entry to one of the leading turbine suppliers in Great Britain, with an installed power of 300MW and 60 staff. Previously, von Barsewisch, who holds a degree in industrial engineering, was employed as VP of business development for the Helm Tool Company, a US manufacturer of injection moulding tools. He also worked as a consultant for Bain & Company.
See related items:
Concentrix's CPV plant feeds grid with record 23% AC efficiency
Concentrix inaugurates 25MW CPV module production line

Search: Concentrix CPV module GaAs-based solar cell
Visit: www.concentrix-solar.de