News
28 August 2009
Korea's longest LED street-lamp installation uses Osram LEDs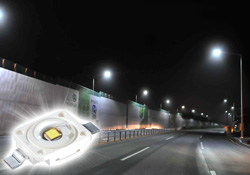 In line with the South Korean government's call to implement more energy efficient solutions, Wonju City in Gwang Won province has completed the country's longest LED street-light installation to date.
Picture: Korea's longest LED street-light installation: 520 LED-based streetlamps using 37,440 Golden DRAGON Plus LEDs.
Incorporating a total of 37,440 cool-white Golden DRAGON Plus LEDs from Osram Opto Semiconductors GmbH of Regensburg, Germany, 520 PRAUS 150W LED-based street lamps from Korean firm GALED Co Ltd have replaced traditional MH 250W and 400W street lamps along the road from Wonju interchange to South Wonju interchange. GALED expects the LED-based street lamps to save 48% on power consumption, while the total cost of ownership can be further reduced due to the LEDs' 50,000 hour lifetime (minimizing maintenance and replacement costs).
"We continue to work with local Korea governments to provide them with high-quality and energy- and cost-efficient lighting solutions to meet their needs," says GALED's CEO Gi-Seon Jeon. "In conjunction with our partner Osram Opto Semiconductors, we are able to provide energy-efficient, high-brightness, customizable lighting solutions," he adds.
"Osram is committed to providing lighting solutions that maximize the return-on-investment for not only our customers like GALED, but for the governments and municipalities that are depending on cost-effective, high-quality lighting products," says Dr Alfred Felder, president & CEO of Hong Kong-based subsidiary Osram Opto Semiconductors Asia Ltd.
The Korea government plans to replace all incandescent light bulbs at public facilities with more energy-efficient LED bulbs by 2012. Stressing the importance of energy conservation in the current economic environment, President Lee Myung-bak has instructed local Korea government chiefs to focus on ways to reduce energy consumption in their regions.
Osram Opto lights reception building entirely by LEDs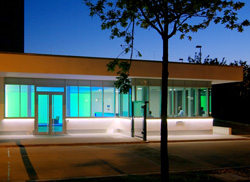 Osram Opto Semiconductors claims that its recently completed reception building in Regensburg is one of the first buildings in Germany to be lit inside and out exclusively by LEDs.
Picture: Osram Opto's reception building.
More than 4500 white and colored LEDs provide the accent, effects and room lighting, enabled by new LED systems that have a wide array of colors and a very high light yield. Due to their small size, they save space and can be fitted inconspicuously, providing unlimited options in general lighting applications, the firm says.
Osram Opto says that the new building acts effectively as a showroom, displaying applications that can be implemented today. Using lights from various producers, it demonstrates how white and colored LEDs can not only create a special atmosphere via accent and effects lighting but also illuminate rooms and workspaces in an energy-efficient way, the firm adds.
Many of the LEDs used in the reception area are dimmable; their brightness can be adjusted between 5% and 100%. Presence and daylight sensors in the washrooms ensure that light is only used when needed. Along with the LED's general energy efficiency, this enables savings of 35% with white LED lighting compared with conventional light sources, the firm reckons. Also, with a life-span of more than 50,000 hours, they are extremely durable and virtually maintenance-free.
A 17m2 wall of light, which consists of a highly elastic, translucent foil only 0.4mm thick, provides variable lighting conditions. In the panel's frame there are LED strips (LI-EX profiles) that emit light sideways (parallel to the wall). The profiles of luminaire manufacturer LI-EX on the upper and lower screen frames are fitted with Osram Opto's warm-white and cold-white Golden Dragon Plus LEDs, the profiles on the right and left with colored Golden Dragon RGB LEDs. So, the wall of light can dynamically display all the chromaticity coordinates between warm and cold white as well as colors and moving color transitions.
LED strips in red, green and blue were also installed behind the 4m2 glass area of the visitor counter, enabling a variety of lighting set-ups. Behind the counter, the LEDs backlight the monitors and provide room lighting for an ergonomic and fatigue-free working environment, says the firm.
Osram Opto's LEDs also set the tone in other areas of the building. White Power TOPLEDs were used for the mirror and ceiling lighting in the lavatories as well as for accent lighting on door frames. Outside LEDs illuminate the pathway and handrail. Also, there are almost no visible lamps and light switches in the building (the wall of light is controlled via a Traxon touch-wheel, for example).
"Illuminating the building with LEDs all-round proves that the LED technology has left its niche," claims project manager Artur Grösbrink. "It can be used in any area of professional lighting and is also eminently suited for showcasing rooms and buildings. Decorative effects are just as feasible as stimulating workspace or atmospheric room lighting," he adds.
See related items:
Osram LEDs used in street-lighting project in Fürth, Nuremberg
Korea's GALED installs street lamps using Osram's Golden DRAGON Plus LEDs

Search: Osram LEDs Street lamps
Visit: www.osram-os.com
Visit: www.galed.co.kr