News
20 February 2009
Solar Metrology extends CIGS/CdTe XRF tool to full-panel analysis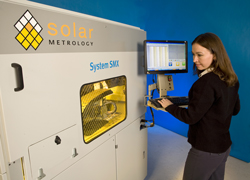 X-ray fluorescence (XRF) analysis system maker Solar Metrology of Hollbrook, NY, USA has expanded its SMX product range, which provides a production-ready suite of thin-film thickness and composition measurement tools for research and process development, in-process monitoring and post-process quality control.
The new SMX-FPV (full panel view) is designed for near-line film composition and thickness control of copper indium gallium diselenide (CIGS) and cadmium telluride (CdTe) film stacks in finished photovoltaic (PV) panels. The new model joins the range's existing models SMX-BEN (for benchtop process development and failure analysis), SMX-ISI (for in-situ deposition monitoring and control) and SMX-ILH (for in-line post-deposition control, introduced last November).
The new tool has a full 600mm x 1200mm lateral xy range and is designed for the measurement of rigid glass substrates. The FPV provides process control of active, contact and TCO (transparent conductive oxide) layers. Detailed analysis of full photovoltaic panels is possible, including fast and repeatable copper and gallium ratio determination, and panel gradient analysis allows for yield improvement and management and conversion efficiency gains in production.
See related item:
In-line CIGS and CdTe PV film composition analysis and thickness measurement

Search: Solar Metrology XRF analysis CIGS CdTe PV panals
Visit: www.solarmetrology.com