News
10 February 2009
Despite record MBE orders for solar, Veeco expects 36-46% sales dip in Q1
For full-year 2008, Veeco Instruments Inc of Plainview, NY, USA has reported revenue of $442.8m, up 10% on 2007's $402.5m. LED & Solar became the firm's largest business, growing 43% from $116m to $166m (37% of total revenue), including more than $40m of solar revenues. Data Storage grew 10% from $136m to $149m (34% of revenue), while Metrology shrank 15% from $150m to $128m (29% of revenue).
However, for fourth-quarter 2008, revenue was $110.3m, up 3% on $106.8m a year ago but down 4.7% on last quarter's $115.7m.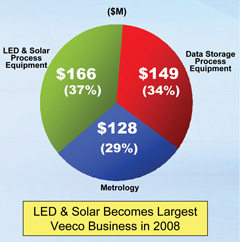 LED & Solar process equipment contributed 34% of Q4 revenue ($38m, down 8% from last quarter's $41m). This included $7.9m in revenue for solar web coaters and 50% growth for MBE products. Data Storage process equipment contributed 41% ($45m, up 40% from $32m), while Metrology contributed 25% ($28m, down 13% from $32m).
Gross margin of 40% is up on 38% a year ago but down from last quarter's 40.6%. In particular, LED and Solar gross margin has fallen from 39.8% a year ago to 35%, due partly to a 33% drop in MOCVD sales.
Excluding charges of $80.1m ($7.1m in restructuring and other charges, plus $73m for asset impairment, triggered by a decline in market capitalization and the weak business environment), earnings before interest, taxes and amortization (EBITA) were $6.2m, down on last quarter's $8.3m. Non-GAAP earnings per share was $0.11, compared to $0.07 a year ago.
During the quarter, Veeco generated $19m in free cash flow and retired $37m of convertible debt. Over the year, net debt has been cut from $26m to just $5m, while the cash balance has fallen from $117m to a still-healthy $104m (despite the cash acquisition of Mill Lane Engineering for $11m). "For the full year, we delivered on our commitments to refocus the business, grow the top line, improve profitability and contain spending," says CEO John R. Peeler.
Fourth-quarter bookings were $89m, flat on last quarter despite a 57% decline in Data Storage bookings to a historical low of $14m, as customers froze capital spending (placing no systems orders). LED & Solar orders grew a more-than-expected 69% to $44m due to record orders for MBE systems for solar and other emerging applications, orders for thermal sources from six solar firms, and two large multi-unit orders for MOCVD systems from LED and concentrator photovoltaic (CPV) customers. Metrology bookings were down 4% sequentially to $31m.
However, Veeco expects a very weak start to 2009. During Q4/2008, order backlog fell from $176m to $147.2m (after adjustments of $6.9m, including $4.9m from the cancellation of a couple of LED systems and $2m from changes in foreign currency rates). In addition, due to current industry overcapacity, financing constraints and their weak business outlook, some of Veeco's key LED and Data Storage customers have pushed out about $30m of equipment deliveries originally scheduled for revenue in first-quarter 2009. As a result, nearly half of the order backlog is forecasted for revenue only in second-half 2009.
For first-quarter 2009, Veeco expects revenue of $60-70m (down 36-46%), gross margin of just 33-36%, and EBITA of minus $7.3-11.5m. Excluding restructuring-related charges of $5-6m, amortization of $1.8m, equity compensation of $1.7m and non-cash interest of $0.7m, non-GAAP loss per share should be $0.25-0.17. Bookings are expected to be down on fourth-quarter 2008.
Due to deteriorating business conditions tied to the global economic slowdown, during fourth-quarter 2008 Veeco initiated a significant restructuring program, which includes cutting staffing by 26%, by 340 from 1318 at the end of September 2008 to under 1000 (with 70% of cuts to be completed by the end of Q1/2009). All other impacted staff will leave by the end of 2009.
The cut is being achieved by simplifying Veeco's organizational structure. This involves centralizing the firm's supply chain and operations, consolidating business units, increasing outsourced manufacturing (to lower expenses and improve the variable cost structure), and cutting the number of manufacturing sites from eight to four.
In particular, Veeco aims to fully outsource MOCVD system manufacturing in Somerset, NJ by Q4/09 (compared to outsourcing about 60% of the product line as of a year ago). It also aims to move the CIGS (copper indium gallium diselenide) web-coater plant in Lowell, MA (formerly Mill Lane Engineering, acquired in Q2/2008) to outsourced manufacturing (while retaining a focus on prototypes).
Other cost-cutting actions include: senior management pay cuts, a reduction in board of directors compensation, a staff wage freeze, and a cut in discretionary spending.
"We have moved swiftly to restructure Veeco to lower our quarterly breakeven level to $80m [with gross margin rebounding to 41-42%], with a goal to return to EBITA profitability by the fourth quarter of 2009," says Peeler. Restructuring actions should yield annualized savings of over $36m: a reduction of about $20m in manufacturing labor and overhead and service costs which are included in cost of goods sold, plus a $16m cut in operating spending (including travel, IT, telecoms, supplies, and consultants).
"While we are dramatically changing the organization and cutting spending overall in 2009, we are also continuing to invest in R&D for high-growth opportunities, with particular emphasis on LED & Solar and new applications for Metrology instruments," says Peeler. In particular, in tune with the end-market growth rates of 20% for LEDs and 50% for solar, the LED & Solar business will more than double from 20% of total R&D spending in 2007 to 44% (in contrast, silicon chip-related R&D spending will drop from 16% to 7%).
"Despite the current pause in capacity spending, we anticipate strong multi-year LED industry growth tied to further adoption in applications such as TVs and laptops," Peeler adds. Veeco's solar growth strategy is based on building an integrated equipment offering for CIGS thin-film solar cells, which is emerging as the next-generation low-cost, high-efficiency solar technology. In particular, In first-half 2009, Veeco intends to expand its CIGS solar product line to include a new glass deposition system (believing that there is a several hundred million dollar equipment opportunity in CIGS vacuum deposition).
"It is our goal to emerge from this downturn with a strong product portfolio well aligned to our customers' technology needs; a solid balance sheet; and a leaner, more cost-effective organizational structure that can achieve 15% EBITA when end-market conditions improve," says Peeler. The 'end-market recovery model' is for quarterly revenue of $110-120m and gross margin of 45-46% (an improvement on Q3/08's $116m and 41%). Veeco currently expects positive cash generation in 2009.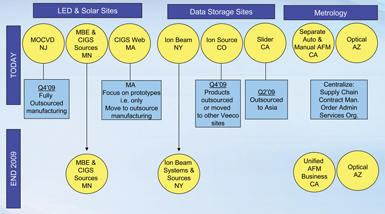 Graphic (above): Consolidation of Veeco manufacturing
plants.
See related items:
Veeco hits third quarter revenue guidance, but bookings take a tumble
Veeco exceeds Q2 bookings, revenues and earnings guidance

Search: Veeco MOCVD MBE Solar cells LEDs
Visit: www.veeco.com