News
28 January 2009
Bookham launches 25W multi-emitter fiber-laser pump module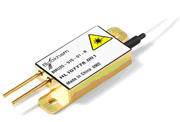 At this week's Photonics West 2009 show in San Jose, CA, USA, San Jose-based Bookham Inc, which manufactures optical components for industrial applications, is launching a high-power multi-emitter pump module capable of delivering 25W from a 105µm fiber with a numerical aperture (NA) of 0.15.
Picture: Bookham's 25W fiber-laser pump module.
The module features the latest generation of multimode pump laser chips fabricated at the Bookham's plant in Zurich, Switzerland, enabling the boost in power from the firm's 20W module launched last September. The new product meets fiber-laser manufacturers' demands for increased output power and brightness, compact pump configurations, and reduced overall system cost, the firm says. Hermetically sealed and incorporating a floating anode and cathode, the module's compact design reduces the footprint of fiber-laser pump stages.
Bookham says that the new module is tailored for high-volume manufacturing in its packaging and assembly facility in Shenzhen, China. The future-proof solution allows for scaling of output power through the integration of future-generation chips or increasing the number of chips used, allowing fiber-laser manufacturers to seamlessly upgrade pump stages or to reduce the number of pumps required in order to lower system costs.
"This is a significant evolution in the development of our portfolio of high-power pump modules for the fiber laser market," says Gunnar Stolze, director of High Power Laser marketing & sales.
*At Photonics West's associated symposium LASE 2009, Bookham is also presenting two technical papers: 'Improved brightness on broad-area single emitter (BASE) modules' and 'Power scaling of bars toward 80mW per 1µm stripe width reliable output power'.
See related items:
Bookham raises bar laser output to 200W; unveils 60W 30% fill-factor 808nm bar
Bookham reports its first profit following record revenue

Search: Bookham Optical components
Visit: www.bookham.com