News
15 January 2009
Firecomms secures $5m, plus long-term transceiver supply contract with Alps Electric
Firecomms Ltd of Cork, Ireland, which manufactures high-speed plastic optical fiber (POF) transceivers and visible-wavelength vertical-cavity surface-emitting lasers (VCSELs), has closed a $5m (€4.1m) funding round that includes significant investments from Swisscom Ventures (an investment wing of Switzerland-based telecom provider Swisscom) and electronic device maker Alps Electric Co Ltd of Japan (a major customer for Firecomms' automotive transceiver products) as well as London-based GP Bullhound Sidecar and existing investors Atlantic Bridge, ACT Venture Finance, and Enterprise Ireland.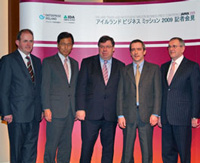 Firecomms says that its home networking technology enables the quick and easy deployment of fiber-optic cable in the home. Using low-cost, easy-to-use transceivers, like its proprietary OptoLock plugless transceivers, Firecomms makes possible a reliable and future-proof connection between IPTV set-top boxes and home gateways, it adds. Plastic optical fiber technology is widely used in millions of cars worldwide, so Firecomms devices have achieved the low cost and high reliability required for use in home applications, the firm concludes.
Picture: CEO Declan O'Mahoney discusses Alps Electric investment with Frank Ryan, CEO Enterprise Ireland; Toshihiro Kuriyama, Director Alps Electric Japan; Taoiseach (Irish Prime Minister) Brian Cowen; and Minister for Trade and Commerce John McGuinness T.D.
"Already an adopter of Firecomms' IPTV interconnect technology, Swisscom has first-hand experience with the advantages of plastic optical fiber in the home," says Firecomms' CEO Declan O'Mahoney. "As Swisscom is an innovative leader in IPTV deployment, this investment is a huge validation of our home networking technology and it will enable us to continue to expand our business with telcos all over the world," he adds.
"Firecomms' technology has enabled us to offer a Swisscom-branded fiber-optic self-install solution today," says Swisscom investment partner Pär Lange. "Our engineers have recognized the advantage of Firecomms' Plastic Optical Fiber technology in reducing and simplifying the install time for our IPTV subscribers," he adds. "Investment in Firecomms will lead to more collaboration between our companies, which will result in the widespread adoption of POF technology throughout the IPTV world."
Alps Electric has also committed to a long-term supply contract of Firecomms high-end fiber-optic transceivers for its networking platforms. "By integrating Firecomms' innovative core technology into our communications products, we will further our technology lead in this highly competitive marketplace," reckons Alps' board member Toshihiro Kuriyama. "Our investment in Firecomms is intended to accelerate its R&D programs to create even more of these opportunities," he adds. "This investment by Alps is the next step in a fast-growing partnership between the two technology companies," says O'Mahoney. Since beginning an R&D collaboration more than three years ago, Firecomms has developed various communication devices for Alps based on Firecomms transceiver technology. With its transceivers inside a significant number of Alps products, Firecomms says that it will be able to leverage Alps' global presence and marketing power to further expand its business.
As a result of the new investment, Firecomms says that it will expand its R&D workforce by 10 over the next 12 months.
The new investment was announced as part of Firecomms' participation in a recent Enterprise Ireland trade mission to Japan that was attended by the Irish prime minister as well as the minister for trade and commerce. Firecomms also has facilities in Japan as well as the USA.
See related items:
Firecomms appoints U.S. Opto Rep for Southern California, Arizona and Nevada
Firecomms and ISMS ally to deploy POF networks in local municipalities

Search: Firecomms POF transceivers VCSELs
Visit: www.firecomms.com