News
23 July 2009
Lumileds launches first LUXEON Rebel LEDs for illumination applications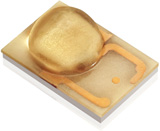 Philips Lumileds of San Jose, CA, USA has expanded its LUXEON Rebel family of LEDs with nine new emitters designed specifically for illumination solutions such as recessed lighting, street lamps and retrofit bulbs. The new LEDs have been optimized for specific color temperature and color rendering index (CRI) combinations and deliver performance that makes them qualified to meet ENERGY STAR requirements and similar programs for a broad range of illumination applications, the firm claims.
The result of collaboration with lighting companies and designers, this first set of LUXEON Rebel LEDs created specifically for illumination applications provides the flexibility to meet varying illumination requirements in the highest growth segments, Lumileds adds. In outdoor area and street lighting for example, a warmer light might be specified for a downtown shopping area whereas roadways might be specified for cooler color temperature light. Likewise, there are dramatic differences in the lighting solution requirements for merchandising in stores compared to lighting office areas or even what's preferred in classrooms.
The nine new LUXEON Rebels are binned according to ANSI standards and all have minimum specified color rendering. Each delivers light output and lumen maintenance that enable ENERGY STAR and similar lighting efficiency and performance programs.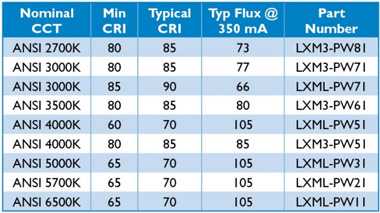 Table: LUXEON Rebel LEDs binned to ANSI standards and in specific color temperature and color rendering combinations.
"This is only the first set of LUXEON Rebel LEDs we're developing specifically for the illumination market, and we plan to continue to develop new products in line with our customers' needs," says executive VP of sales & marketing Steve Barlow. "With literally hundreds of potential applications to be addressed, our white LUXEON portfolio will continue to expand with a variety of different product configurations and performance characteristics," he adds.
See related item:
Lumileds launches LUXEON Rebel phosphor converted amber LED

Search: Philips Lumileds LUXEON Rebel LEDs
Visit: www.philipslumileds.com