News
8 July 2009
Osram LEDs light China's Yangzi River tunnel
Osram Opto Semiconductors GmbH of Regensburg, Germany says that its Golden DRAGON Plus LEDs are being used by Guangzhou Zhonglong Communications Technology Co Ltd of Guangdong Foshan, China for the Yangzi River tunnel luminaire project in mainland China, making it the longest tunnel in the world to be lit by LEDs. With an internal diameter of 12.7m, the tunnel is 8.9km long in a twin-tunnel complex, and each bore contains three lanes of traffic. The two bores will be equipped with 5886 tunnel luminaries incorporating more than 410,000 Osram Golden DRAGON Plus LEDs.
The project marks a new era of LED luminaries being used widely for tunnel lighting in China, says Bin Chen, president of Guangzhou ZhongLong Communications Technology, which was founded in 2004 to manufacture highway lighting. With 40-50% of total energy consumption in the tunnel due to illumination, it is expected that the average annual energy savings from the LED-based tunnel lamps is over 35%.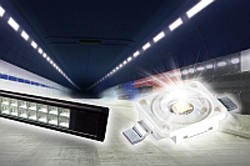 Picture:Zhonglong's tunnel lamps, incorporating Osram Golden DRAGON Plus LEDs.
With pressure from the rising price and short supply of energy, the Chinese government has begun instructing local governments to comply with energy-saving policies in all infrastructure development, with LEDs for road/tunnel lighting becoming one of the main focuses.
"We are proud to help move forward the energy-efficiency initiatives in China by providing LED technologies to our business partners," says Dr Alfred Felder, president & CEO of Osram Opto Semiconductors Asia Ltd. "Our cooperation with Guangzhou ZhongLong is a vital landmark for high-performance LEDs as a tunnel lamp light source in China," he adds.
See related item:
Osram selected to supply LEDs for tunnel lighting

Search: Osram Golden DRAGON Plus LEDs
Visit: www.osram-os.com