News
14 May 2009
Oxford Instruments launches CrystalFlex HVPE reactor
UK-based Oxford Instruments has launched the CrystalFlex multi-wafer hydride vapor phase epitaxy (HVPE) reactor.
CrystalFlex is claimed to provide superb epitaxial growth control and offer a cost-effective route for the production of high-quality, crack-free epitaxial single-crystal compound semiconductor materials including gallium nitride (GaN), aluminum gallium nitride (AlGaN) and aluminum nitride (AlN).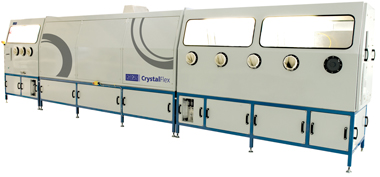 Picture: Oxford Instruments' CrystalFlex multi-wafer HVPE reactor.
The equipment is designed for R&D or full-scale production of Group III nitrides, with the focus on process stability, reproducibility, and optimal source materials usage. The flexible reactor configuration enables end users to grow a variety of Group III nitrides with various thicknesses, the firm says.
"This product launch is a natural progression for Oxford Instruments," says the firm's general manager Bernard Scanlan. In April 2008, Oxford Instruments acquired Technologies and Devices International Inc (TDI) of Silver Spring, MD, USA, which had been developing HVPE processes and techniques for the production of Group III nitrides since being founded by Vladimir Dmitriev in 1997. "Our acquisition in 2008 of TDI and its highly qualified team of research scientists, together with Oxford Instruments development scientists and top-level technological expertise, provide a unique platform from which to develop this reactor," he adds. "Its flexibility means that it is capable of both R&D and full-scale production."
The new reactor complements Oxford Instruments Plasma Technology's existing range of processes specifically designed to serve the high-brightness LED (HB-LED) market. Oxford Instruments has supplied etch and deposition technology to the HB-LED industry for more than 10 years. With the addition of the CrystalFlex HVPE growth system, another key point on the HB-LED production chain is addressed, says the firm.
See related items:
HVPE of semi-polar GaN on m-plane sapphire boosts opto device performance
OIPT wins order from Asian HB-LED maker for first three of up to 15 systems
Riber buys OIPT's MBE business
Oxford Instruments acquires TDI
See: Oxford Instruments Company Profile

Search: Oxford Instruments TDI HVPE GaN AlGaN AlN HB-LEDs
Visit: www.oxford-instruments.com