News
20 November 2009
IQE appoints group business development director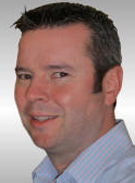 IQE plc, which supplies epitaxial wafer growth services for the wireless, optoelectronic, solar, and solid-state lighting industries, has appointed Adrian Meldrum as group business development director, based at the headquarters in Cardiff, UK.
Picture: Adrian Meldrum.
Meldrum has more than 15 years of experience in the optoelectronics market sector, having held technical and commercial roles with JDSU and, more recently, business development and sales & marketing roles at Bookham (now Oclaro), where he was general manager of the Telecom Division until joining IQE.
IQE says that the appointment complements and further strengthens its management team following the recently announced appointments of professor Wang Nang Wang as chief scientific adviser (formerly CEO of gallium nitride substrate firm NanoGaN Ltd of Bath, UK, acquired in October), Walt Wohlmuth as New Technology director in the US, Kent Wardley as US wireless sales director, and Brian VanOrsdel as US opto sales director.
IQE's portfolio includes III-V PHEMT, HBT, and BiFET epi-wafers as well as lasers, detectors, vertical-cavity surface-emitting lasers (VCSELs), ultra-high-brightness LEDs and multi-junction solar cells for concentrated photovoltaic (CPV) applications. IQE's products are grown by MBE, MOCVD and CVD at the firm's six manufacturing sites in the US, UK, and Singapore.
See related items:
IQE completes NanoGaN acquisition
IQE recruits directors of Wireless Product Sales and New Technologies in US
IQE appoints director of North American sales
See: IQE Company Profile

Search: IQE
Visit: www.iqep.com