News
7 September 2009
CIGS PV maker Solyndra breaks ground on 500MW Fab 2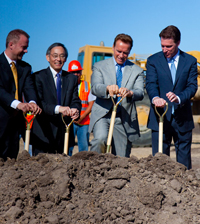 Solyndra Inc of Fremont, CA, USA, which was founded in 2005, has begun construction of its second copper indium gallium diselenide (CIGS) photovoltaic (PV) panel manufacturing plant less than a mile from its current 300,000ft2 plant and headquarters in Fremont, CA, USA.
Picture: "US Energy Secretary Steven Chu and California's Governor Arnold Schwarzenegger flanked by Solyndra executives."
The ground-breaking ceremony was attended by California's Governor Arnold Schwarzenegger and US Energy Secretary Steven Chu (joined by US Vice President Joe Biden via satellite from Washington).
Covering about 1 million square feet and designed for an annual production capacity of 500MW per year, Fab 2 will enable Solyndra to fulfill a backlog of announced contractual orders (from customers in the USA and Europe, including GeckoLogic, Phoenix Solar and Carlisle Energy Services) now worth more than $2bn, despite the firm only coming out of stealth mode in autumn 2008.
Solyndra has developed a proprietary thin-film cylindrical solar panel built from tubes that capture sunlight across a 360º photovoltaic surface capable of converting direct, diffuse and reflected sunlight (from below) into electricity. The firm says that this 'self-tracking' design allows the capture of significantly more sunlight from low-slope commercial rooftops than conventional flat-surfaced solar panels, which require costly tilted mounting devices to improve the capture of direct light from the sun, offer poor collection of diffuse light, and fail to collect reflected light from rooftops or other installation surfaces. Also, gaps between the tubes and their frame let wind pass through, reducing the need for heavy, roof-penetrating fastenings or anchoring; their lighter weight also allows installation on scantier roofs. Simple horizontal mounting hardware also allows fast and economical installation, claims the firm.
Solyndra says that its two fabs will produce enough solar panels over their lifetime to cut over 350 million metric tons of CO2 emissions or 850 million barrels of oil. "Fab 2 will allow us to meet customer demand while making a positive impact on the world's energy and environmental needs," says CEO & founder Dr Chris Gronet. "We are grateful for the vision and support of President Barack Obama, the US Department of Energy (DOE), the US Congress, and our investors."
The first phase of Fab 2 is being financed by public and private capital. Solyndra is the first recipient of a DOE loan guaranteed under the American Recovery and Reinvestment Act and Title XVII of the Energy Policy Act of 2005 (also the first loan guarantee issued by the DOE since the 1980s). Announced in March but only finalized recently after Solyndra secured its portion of Fab 2's financing, the $535m loan from the US Treasury's Federal Financing Bank is providing 73% of the $733m project cost, supplementing $198m from a recent financing round led by Argonaut Private Equity. Solyndra has previously raised about $820m in venture capital.
Solyndra estimates that the construction of Fab 2 will employ over 3000 people, and ongoing operation will create over 1000 jobs. The plant should open by late 2010 and begin shipments in 2011 (with the installation of Solyndra PV systems generating hundreds of additional jobs, the firm reckons). A second phase of Fab 2 should employ 1000 more, says Ben Bierman, Solyndra's VP of operations. The firm currently employs 600.
See related item:
Solyndra secures $535m DoE loan guarantee
Visit: www.solyndra.com