News
21 April 2010
LayTec adds business development manager for China and Taiwan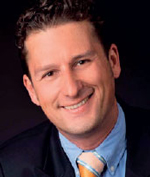 LayTec GmbH of Berlin, Germany, which provides in-situ optical metrology equipment for thin-film processes, has strengthened its sales team by recruiting Tom Thieme as its new manager for business development in China and Taiwan. With LayTec's market share in Asia is growing, Thieme will coordinate sales activities, strengthen the firm's cooperation network, and work directly with customers and's distributors in China and Taiwan.
Picture: Tom Thieme, LayTec's new manager for business development in China and Taiwan.
As well as having a technical and scientific background as a graduate in process engineering, Thieme has 14 years of experience in international sales and marketing. He has previously worked at Atotech (part of the Total Group), focusing on electrochemical process solutions for the electronic and semiconductor industries. He also has experience in product integration, establishing and managing product portfolios, customer networking, and relationship management.
*Since January 2009, LayTec's staff has grown by more than 20%, and the firm continues to grow. Positions are currently offered for an experimental physicist (R&D), a constructing engineer (R&D), a service engineer (customer support), software developer, physicist (Bachelor of Science), and a software & system tester.
See related items:
LayTec develops AbsoluT for precise on-site temperature calibration
LayTec ranked 30th out of Germany's top 50 fastest growing companies
LayTec moving to expanded premises ahead of 10th anniversary

Search: LayTec In-situ monitoring
Visit: www.laytec.de