News
19 April 2010
Osram's Golden DRAGON Plus used for Indonesia's first LED-lit toll road
Osram Opto Semiconductors GmbH of Regensburg, Germany says that its Golden DRAGON Plus LEDs have been deployed by PT Tricomm Aerocitra's Solarens lighting solutions in the 9.7km-long West 1 section of Jakarta's Outer Ring Road that comprises Indonesia's first LED-lit toll road. The LEDs, installed in 307 road lamps along road sections plus 126 lamps in eight toll gate stations, should provide uniform and comfortable lighting for drivers, says Osram Opto.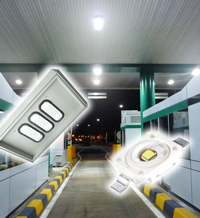 "Uniformity affects visibility and so is very important in street lighting," says Irvin Busser, director of PT Tricomm Aerocitra. "With the stability and reliability of Golden DRAGON Plus LEDs, our Solarens road lamps and toll gate station lamps improve roadway visibility and improve driver, patrol and toll gate staff safety."
The LED-based luminaires are also expected to achieve 65% power saving compared to 150W high pressure sodium (HPS) lamps (important for a fast-developing country like Indonesia, says Osram Opto). Furthermore, the Golden DRAGON Plus LED has a lifetime of up to 50,000 hours, cutting service hours and maintenance costs (especially suiting such a busy road).
Concerns over climate change and the desire to use energy resources more efficiently are driving countries around the world to adopt innovative and sustainable approaches in their infrastructure development, says Osram Opto.
According to Strategies Unlimited's study 'LED Lighting Fixtures', LED lamps will be the sole replacement for traditional lamps by 2012. Also, from 2008 to 2012, the market for LED lighting will have a compound annual growth rate (CAGR) of 28%.
"This project, with installation of LED road and toll gate lighting, has set a good showcase for the future of LED lighting in Indonesia," comments Kai-Chong Cheng, marketing director of Osram Opto Semiconductors Asia Ltd. "With this good application example, the adoption of LED lighting will accelerate in the country," he believes.
See related item:
Osram Opto's LEDs used in first large-scale deployment of street lighting in Italy

Search: Osram Opto Golden DRAGON Plus LEDs
Visit: www.osram-os.com