9 December 2010
Monocrystal launches 10-inch sapphire substrate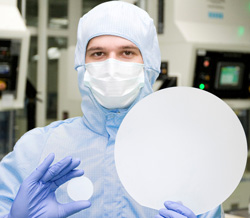 Monocrystal Inc of Stavropol, Russia, which provides sapphire products and metallization pastes to the semiconductor, optical, and photovoltaic industries, has announced the availability of its ultra-large 10-inch c-plane epi-ready sapphire substrate.
The LED industry continues to shift to larger-diameter substrates as it strives to achieve greater cost savings and to increase LED chip production throughput in order to bring LED lighting closer to widespread use, says Monocrystal. The firm says that it hence continues to develop next generation large-diameter sapphire wafer technology.
Picture: Monocrystal's 10-inch sapphire substrate.
"The introduction of innovative 10-inch LED sapphire substrates clearly demonstrates that Monocrystal is well positioned to support the growing market demands and expand LED industry prospects," claims CEO Oleg Kachalov. "This further strengthens Monocrystal position," he adds.
Sapphire substrates are currently used for more than 90% of gallium nitride (GaN) LED chips produced, including high-brightness devices used for LED lighting products (as well as increasingly being adopted in applications such as mobile devices, displays, traffic lights, car lighting and interiors). Compared with conventional incandescent lamps, LEDs consume up to 90% less energy and have a life-span 50 times longer, says Monocrystal.
Doubling of monthly sapphire wafer demand in 2010 sends 2" price over $30s
Tags: Monocrystal Sapphire substrates LEDs GaN