News
8 February 2010
Alaska's Valdez joins LED City program
The city of Valdez in south-central Alaska has joined the LED City initiative, an international community of government and industry parties initiated by LED chip, lamp and lighting fixture maker Cree Inc of Durham, NC, USA in December 2006 to evaluate, deploy and promote LED lighting for municipal infrastructure.
Valdez joins existing program members Raleigh and Chapel Hill, NC; Ann Arbor, MI; Austin and Fairview, TX; Anchorage, AK; Indian Wells, CA; Danville, VI; and Boston, MA in the USA; Toronto and Welland in Canada; Tianjin and Huizhou in China; Gwangju in South Korea; and Torraca and Apecchio in Italy.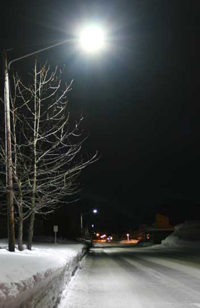 Valdez, which has a population just 4353, is now in the process of converting all of its 343 street lights to LED technology. As part of the project, city officials have negotiated a new, reduced billing rate with Copper Valley Electric Association for the LED street lights, and will renegotiate its maintenance contract when it expires in 2011.
Picture: Copper Valley Electric Association lowers rates for LED street lights.
"We project we can achieve 45% or higher energy savings with the new BetaLED fixtures we are installing, compared with the high-pressure sodium lights we are replacing," says mayor Bert Cottle. "As we look ahead and anticipate rising energy costs, investing in LED technology becomes even more attractive," he adds.
"Community feedback on the initial lights has been overwhelmingly positive," Cottle notes. Valdez initially installed two trial street lights outside City Hall in January 2009 and solicited feedback from the community. "Valdez citizens like the quality and color of the new LED lights and they are happy about the projected energy and maintenance cost savings." The city began replacing the first one-third of its streetlights in December and expects to complete the full conversion by 2011. The new LED lights are expected to last ten times longer than the high-pressure sodium lights currently in use.
"Copper Valley is taking a leadership role in the utilities industry by setting a reduced rate on LED street lights," comments Greg Merritt, Cree's VP of government relations. "Other utilities are grappling with how to handle LED street-lights tariffs, and Copper Valley's proactive stance can serve as a model for promoting energy-efficient LED lighting."
The BetaLED fixtures can be operated at three light levels. Initially, the fixtures will be operated at a higher setting for maximum light output during the winter months, when snow removal activities require high light levels. In future, city officials can choose to switch the lights to a lower operating level, depending on actual light-level requirements, potentially increasing energy savings to 60%.
See related items:
Cree celebrates 3rd anniversary of Raleigh becoming first LED City

Search: Cree LEDs Streetlighting LED City
Visit: www.ci.valdez.ak.us
Visit: www.ledcity.org
Visit:
www.creeledrevolution.com