News
3 February 2010
Oxford Instruments' HB-LED tool sales boosted by LCD TV backlighting demand
UK-based etch and deposition equipment maker Oxford Instruments (OI) says that despite the current economic downturn sales of its systems for the production of HB-LEDs have continued to grow.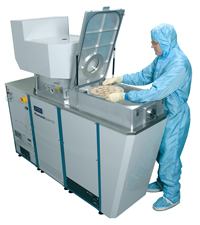 Over the last 12 months, the firm has more than doubled its HB-LED tool sales and now supplies nearly all of the major Asian HB-LED manufacturers, resulting in a significantly increased market share.
Picture: Oxford Instruments Plasma Technology
System133-ICP380 Plasma Etch Tool.
"The increased use of LED back lighting units in LCD televisions is currently driving substantial growth in the HB-LED market and this growth is predicted to continue over the next few years", says Mark Vosloo, sales and customer service director at Oxford Instruments Plasma Technology (OIPT). "In addition, the use of LED backlighting in notebook PCs and increased penetration of LEDs in automotive and architectural lighting is also driving the market. With over 10 years experience as a leading supplier to HB-LED manufacturers globally, a versatile product range, process capabilities and continuous development programme, Oxford Instruments Plasma Technology is well positioned to take advantage of this. We are delighted that so many important players in HB-LED manufacture have chosen OIPT as their equipment supplier."
Recent orders have included the batch System133 PECVD load locked tool and Plasmalab 800Plus PECVD open load tool which give excellent uniformity over large batch sizes for the deposition of dielectric passivation layers, and the batch System133 ICP380 etch tool for GaN, AlGaInP and sapphire etching. These systems all offer very high throughput and superb repeatability, as well as industry leading batch size. Furthermore, all systems are easy to use and maintain and can be SECSGEM enabled, concludes the firm.
See related item:
OIPT wins order from Asian HB-LED maker for first three of up to 15 systems
See: Oxford Instruments Company Profile

Search: OIPT Etch PECVD GaN AlGaInP HB-LEDs
Visit: www.oxford-instruments.com