News
25 February 2010
OPEL Solar wins Connecticut Green Business Award
OPEL Solar Inc, a subsidiary of OPEL International Inc of Shelton, CT, USA and Toronto, Canada, which makes high-concentration photovoltaic (HCPV) panels and other solar products, received a 2010 Connecticut Green Business Award on 24 February 2010, for contributions to driving Connecticut's green economy with the creation of 'green jobs'. OPEL Solar was one of 25 companies awarded. The awards were selected by Business New Haven & CONNTACT.com.
On accepting the award, Robert Pico, CEO of OPEL Solar, said: "We are proud of our successes using the HCPV technology and are encouraged that we have and can continue to bring green jobs to Connecticut."
In March 2009, OPEL Solar completed the first solar rooftop tracking system for the Linden Elementary School in Plainville, Connecticut. For this project, OPEL Solar won grants from the Connecticut Clean Energy Fund and from the US Treasury Grant Program created by the American Recovery and Reinvestment Act.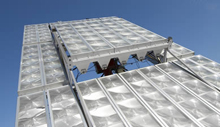 Picture: OPEL Solar's Mk-I High Concentration Photovoltaic Panel (HCPV).
OPEL Solar's installations are built using its Mk-I high concentration panels (HCPVs) mounted on dual axis trackers. The combination of OPEL's HCPV panels (based on gallium arsenide triple junction solar cells produced by Boeing-Spectrolab) and precision dual axis trackers results in a higher power production per unit of land (acre/hectare) than silicon or thin film flat panels with a potential to increase photovoltaic yields by up to 40%, says the firm.
See related item:
CPV firm OPEL signs dealer agreement with SOLYPAC for utility-scale markets
Visit: www.opelinc.com