News
15 January 2010
Milwaukee Area Technical College joins Cree LED University program
LED chip, lamp and lighting fixture maker Cree Inc of Durham, NC, USA says that Milwaukee Area Technical College (MATC) has joined its LED University program. College officials recently retrofitted a six-story, 900-vehicle parking garage, replacing high-pressure sodium lights with LED lighting products from BetaLED. Founded in 1912, MATC is one of the Midwest's largest community-based technical colleges, with about 57,000 students.
Launched in April 2008, the LED University initiative is an international community of universities working to evaluate, deploy and promote the adoption of energy-efficient LEDs across their campuses (in areas such as offices, student housing, parking garages, walkways and streets). The aim is to save energy, protect the environment, reduce maintenance costs, and provide better light quality for improved visibility and safety. Alfred University joins inaugural participant North Carolina State University as well as University of California at Santa Barbara, the University of Arkansas, Marquette University, the University of Notre Dame, University of California, Davis, the University of Miami, the University of Alaska at Anchorage, Madison Area Technical College, Joliet Junior College and Alfred University in the USA, as well as Tianjin Polytechnic University in China.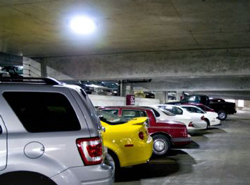 More than 500 BetaLED fixtures are now illuminating the garage on MATC's campus, cutting energy use for lighting by 55%. The college expects to recoup $25,000 annually in maintenance costs savings over the 12-year life of the fixtures.
"MATC is committed to implementing new technologies that help us reduce energy use today as well as providing a clear path to help us stave off the effects of the electricity rate hikes we all anticipate," says MATC's interim president Vicki J. Martin Ph.D. "With help from Johnson Controls, this project serves as a demonstration of MATC's commitment to ongoing sustainability initiatives and an example to our students and community of the significant steps we are taking to reduce energy consumption and our carbon footprint," she adds.
"Switching to LED lighting is a high-impact step MATC can take to reduce its impact on the environment," says Cree's LED programs manager Deb Lovig. "Starting with a parking garage is an ideal way to evaluate the technology and to gather energy and maintenance cost-savings information," she adds. "MATC is a living laboratory for LED lighting, and the experience gained from this installation can be shared with the larger community so that others in the Milwaukee metro area might gain the confidence to begin switching to energy-efficient LED lighting."
See related items:
Alfred University joins Cree LED University program
First US public community college joins Cree's LED University program

Search: Cree LEDs LED University program
Visit: www.matc.edu
Visit: www.CreeLEDRevolution.com
Visit: www.leduniversity.org