News
27 January 2010
LEDs to surpass CCFL in large-area TFT LCD backlights in 2011
With the market for LED backlight units (BLUs) having emerged rapidly in the TFT LCD industry and momentum expected to continue over the next five years, LED BLUs will surpass CCFL/EEFL backlights in large-area TFT LCD panels in 2011, and achieve 74% penetration in 2013, according to DisplaySearch's latest 'Quarterly LED Backlight Report'. Large-area LED backlight demand for all applications will grow from 114 million units in 2009 to 770 million units in 2015.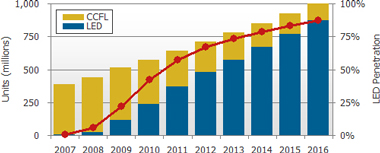 Figure: LED backlight unit penetration rate in 10"+ TFT LCDs (notebook PCs, LCD monitors and LCD TVs).
"Without a doubt, LED backlights will be the dominant light source in all applications in 2011—representing a significant business and technology evolution for the entire backlight and panel supply chain," notes Kevin Kwak, director of LED Backlight Unit Research.
Shipments of LED backlight units for LCD TVs in particular will grow from 36.5 million units (a 20% penetration rate) in 2010 to 184.9 million units (72%) in 2015, forecasts DisplaySearch. "In order for LCD TVs with LED backlight units to gain market share, they must provide attractive performance and cost competitiveness simultaneously," Kwak adds. "Three main components will play a role in reducing costs: LED chips, light guide plates and dual-brightness enhancement films."
Cost and performance remain bottlenecks for panel manufacturers for LED backlight units in monitor panels. Despite this, the Energy Star 5.0 specification will drive growth for this segment. In particular, LCD makers are mass producing 18.5" x 24" LCD monitor panels with LED backlight units. DisplaySearch predicts that <26" LCD TVs with LED backlights, mainly using monitor panels, will also grow rapidly, as the cost premium is acceptable.
The notebook PC segment has the highest LED backlight unit penetration rate, as the power-saving benefit justifies the cost premium compared to CCFL BLUs. Meanwhile, the prices for side-view, high-intensity (1900-2200mcd) white LEDs continues to fall. As a result, LED backlights will have an 84% share of notebook PC shipments in 2010 and will be close to 95% in 2011, reckons DisplaySearch.
*DisplaySearch's 12th annual USFPD Conference 'Laying the Foundations for the Next Wave of Growth: Energy Efficient & Low Cost Alternatives Lead the Way' will take place on 2–3 March in San Diego, CA, USA.
See related items:
LCD TV shipments to grow 22% in 2010, boosted by LEDs
LED-backlit LCD-TV shipments to rise eight-fold in 2010
LED TV backlighting market to grow at 148% to $7.5bn in 2013

Search: LED backlighting BLUs TFT LCD panels
Visit: www.displaysearch.com/usfpd